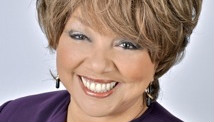 Editor's note: Carole Simpson is the leader-in-residence at Emerson College's School of Communication in Boston, where she teaches journalism and communications classes. She is the first woman or minority to be the sole moderator of a presidential debate, and chronicled her 40 years as a broadcast journalist in her memoir, "Newslady."
By Carole Simpson, Special to CNN
(CNN) -  Congratulations Candy Crowley on being the first female in 20 years to be named moderator of a presidential debate!
CNN's Crowley first woman in two decades to moderate presidential debate
They could not have chosen a more seasoned journalist for this job.
(I have to acknowledge that I am not totally unbiased: Candy and I first met 30 years ago when we covered President Ronald Reagan.)
I remember when I was chosen to moderate the 1992 presidential debate with President George H.W. Bush, businessman Ross Perot and then-Gov. Bill Clinton. I had been covering politics since 1968, was anchor of weekend news at ABC and had covered Clinton and Bush.
It is with that background, that I share some advice.
Don't forget you will be treated differently because you are a woman

There is still a double standard.
People will be hypercritical of how you handle the debate no matter how professional or fair you are.
Opinion: Carole Simpson on the truth about being old and female
Republicans accused me of making Bush look ineffectual, and making Clinton look good.
It was George Bush who replied to a question about the economic recession, "I'm not sure I get it." I didn't make him look at his watch during the debate.
I had nothing to do with Bill Clinton working his personal charm on the town hall participants.
Yet, Rush Limbaugh used his radio program to blast my alleged Democratic bias. His speech was so hateful that I received death threats.

Do not be afraid
You will be seen by millions across the world – but don't think about that.
Before the debate I felt panic. I had to keep telling myself, "It's only a television show. It's only a television show."
That got me through the 90-minutes of hot lights and cameras.
Later, I learned those debates are much more than a TV show. Elections can be decided by how well the candidates perform in the debates.
Some political analysts said Bush lost the election during the debate I moderated. By his answers and his demeanor, the public perception was that he didn't understand at all how the recession was hurting the American people. Clinton demonstrated he did.
Be yourself, not what you think a 'presidential debate moderator' should be 

When I was offered the opportunity, I was told that the commissioners wanted me to be like Oprah.
Since my debate was the first time a town hall format was used, I had no tapes I could review of how exactly to handle questions from voters rather than a panel of journalists.
Since there was no blueprint, I decided to do it my way.
My job was to make sure the "people's questions" were answered fully by the candidates. So I felt l was the people's representative.
That meant I treated the people with warmth and friendliness and used my journalism chops when pressing the candidates for answers. I used humor, but was drop-dead serious when the issues demanded. I had to be me - and you, Candy, should be you. Show them your great personality.
Ignore those who want to give you advice on everything
Before my debate, people came out of the woodwork to tell me how to speak, how to stand, how to walk among the audience, how to dress and how to style my hair.
I don't think any man has gone through that.
Hundreds of people sent me questions they wanted me to ask:  good ones, stupid ones and downright crazy ones.
I got myself into such a tizzy that I just stopped listening and reading what others said, and instead concentrated on being totally prepared.  I knew each candidate's position on every major issue. I studied long and hard so that I could catch them if they changed or misstated their positions during the debate.  I knew the concerns of the Richmond, Virginia, voters who made up the town hall forum.
I didn't want anybody to be able to say I was weak or unqualified.
And here I am, giving advice even as I advise charting your own path.
I know that you, Candy, will do an excellent job.
But there is something that is harder to prepare for: Your life will not be the same. Candy Crowley will become a household name.
Perhaps someday, when you're shopping for souvenirs in the Grand Bazaar in Istanbul, a local Turk will stop you and say: "You are Candy Crowledy. I saw you in the presidential debate. You were terrific."
This happened to me in 1999.
Hopefully it won't be another 20 years before  you advise the next female moderator of a presidential debate.
Good luck, my friend.
The opinions expressed in this commentary are solely those of Carole Simpson.