By Ashley Strickland, CNN
Atlanta, Georgia (CNN) - When the Mexican Consulate in Atlanta opened at 7 a.m. on Wednesday, 60 people were waiting outside. The clusters of people aren't unusual. There is often a wait to process documents and take classes.
It was the number of children and young people streaming in on their own, or alongside their parent, that stuck out to the consulate employees. At least 100 were on site, eager to process documents, during the busiest part of the day. Once they have the proper paperwork, they can apply for a chance to remain in the United States for at least two more years without fear of deportation.
Undocumented immigrants line up for relief from deportation
CNN spoke with some who came in and out of the consulate. The constants?  Faces bright with hope and voices that carried the excitement visible in their eyes.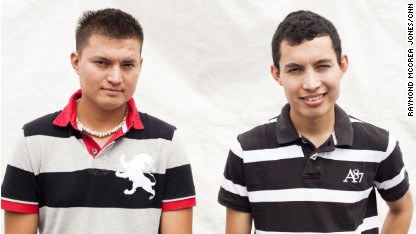 Names: Oscar and Alejandro Angeles
Ages: Oscar is 21; Alejandro is 19
From: Morilia, Mexico. In the United States since 2003
What they think about the deportation deferment: "It's like a great opportunity to achieve something in life," Oscar said. "I want to go to school now, have a career and get a good job."
Oscar graduated high school two years ago. He wants to become a doctor, but has not been able to go to college because of his status. He worries that this gap between high school and college has given him a greater challenge: remembering his education. "I already forgot everything."
Alejandro graduated from high school in 2011. He wants to study business when he is accepted to a college.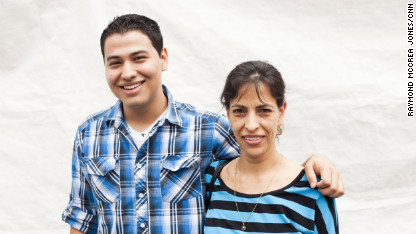 Names: Angel Pinon, and Silbia, his mother
Age: Angel is 20
From: Chihuahua, Mexico. Moved to the United States when Angel was 2.
What he thinks: "When I heard the news, I didn't believe it at first because, I've, in a way, been waiting for this for a while and seeing what else I could do," Angel said. "It wasn't until I was 16 that they told me I couldn't get a license or drive."
What he wants to do: "Drive!" he nearly shouted. "I have a small job, but now I don't have to depend on other people. I always had to do that in high school." Angel is in college, but hopes he is now eligible for scholarships. He wants to pursue a career in the medical field, but if not "I want to become a rock star," he said, grinning.
When asked what she thought of the policy, his mother simply looked at the sky and clasped her hands, saying "Thank God."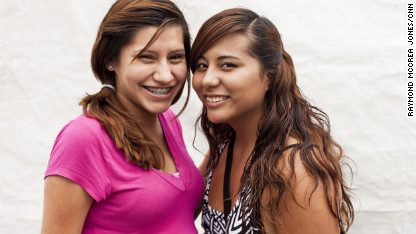 Names: Jennifer Flores and Cristian Lopez (pink shirt)
Ages: Jennifer is 21, Cristian is 17.
From: Acapulco. Jennifer has been in the United States since she was 4, Cristian since she was 7.
What they think: "I got really excited that I could follow my dream and go to college and be what I want to be because we only go up to high school and then we go back to our countries, so we have more opportunities here," Jennifer said. "I was shocked that Obama actually did this."
Jennifer hopes that whoever the next president may be, he won't get rid of it. While Mexico is her original home, Jennifer said she is used to being here, so Mexico would feel like a different kind of home. Cristian also feels like it is an opportunity to pursue college in one successful, unbroken path, so she can study business.
"There are a lot of smart Hispanics that can cause change in this country, and those are the people they end up deporting," Jennifer said. "This DREAM Act is helping everybody." She believes that especially her generation can change negative perceptions about Latinos.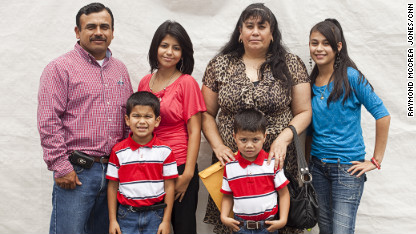 Names: Juan, Magdalena, Rocio, Paola, Joshua and Andres Gutierrez
Ages: Rocio is 16, Paola is 14, Joshua is 6 and Andres is 4.
What they think: "It's awesome!" Rocio said. "I wanted to be an architect, I was trying to get far in this life. I've been trying to get all A's and get out with honors and have a good life." Rocio is in 11th grade and hopes to make it to college given the two-year extension. Her brothers were born in the United States, but her sister, Paola, is in the same situation as Rocio. She said she wants to be in the United States when she turns 16, because she knows it will be an exciting time in her life.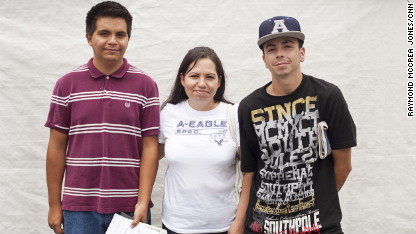 Names: Camerino Pantoja and his cousin, Salvador Balzazar. Mrs. Balzazar is Camerino's aunt.
Ages: Camerino is 21, Salvador is 24.
From: Camerino is living in Ellijay, Georgia. Salvador is from Guanajuato.
What they think: Camerino drove his cousin and aunt from Elijay to Atlanta, about an hour and half drive "with 400 horses" powering the way. Camerino is here legally, and he drives his extended family where they need to go.
"I plan on driving them, I'll be back to drive people. I like helping them out. They didn't come to America to ask for anything; they came to make something out of themselves and that's why I like to do people like that favors."
Salvador graduated from high school in 2009 and now wants to go to school, studying for a career in the medical field. His family has been here since 1995.
"It's worth it for your future," Camerino said. "You're going to have kids. They'll have a better life, a better one than you went through."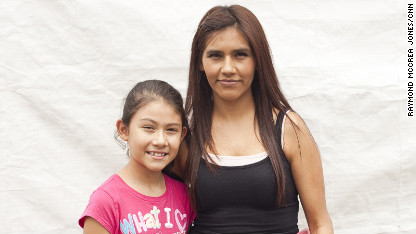 Names: Aracei and Jade Salgado
Age: Jade is 8.
What they think: If Jade gets to stay in the United States, her wish is a simple one. "I want to be able to visit my friends at their house," she said. At her age, nothing is more important than maintaining the friendships she has built at school. Jade wants to remain in the United States for as long as possible and become a police officer. She said she doesn't have any friends who are going through the same thing, and it's not a topic brought up at her school.
Related:
Immigrants line up for relief from deportation
Five things to know about the big change in immigration policy