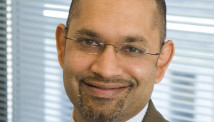 Editor's note: Ali Noorani is the executive director of the National Immigration Forum, an organization based in Washington that advocates for the value of immigrants. Follow him on Twitter.
By Ali Noorani, Special to CNN
(CNN) - Look at the goals Ivan Rosales has set for himself and you'll see an example of the American ambition that makes our nation great.
Ivan is a recent graduate of California State University in San Bernardino, and is about to start a master's program in bioethics at New York University. But that's just a steppingstone on his path, he hopes, to medical school, where he wants to study oncology.
Along the way, he'd also like to join the military and serve our country as an Army medic.
Sounds like a guy you'd want as your neighbor (or your doctor), right?
Program providing protection for your immigrants launched
Well, there's a catch: Ivan was born in Mexico and came to the United States when he was 8 months old. Although two older siblings were born here and are citizens, Ivan is an undocumented immigrant.
But the Obama administration saw that America was losing out when people like Ivan could not reach their full potential because of their immigration status.
The administration announced June 15 that it would consider requests for "deferred action" - that is, a stay of deportation proceedings - for young people who came to the United States before age 16, were 30 or younger as of June 15, have lived in the United States for at least five years, have graduated or are enrolled in school or were honorably discharged from the military, have stayed out of trouble and pass a background check.
Excitement has been building among eligible young people during the 60 days U.S. Citizenship and Immigration Services had to work out the details. The agency published the request forms Tuesday and is accepting requests starting Wednesday.