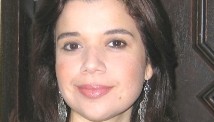 Editor's note: Ana Navarro, a Republican strategist and commentator, served as national Hispanic campaign chairwoman for John McCain in 2008 and national Hispanic co-chair for Jon Huntsman's 2012 campaign. Follow her on Twitter @ananavarro.
By Ana Navarro, CNN Contributor
(CNN) - The Veepstakes guessing game is over.
In the red corner, we have Mitt Romney and Paul Ryan, America's "comeback team." In the blue corner, we have Barack Obama and Joe Biden, America's current team. Let's get ready to rumble.
Now that we know who the players are, the race is on to define Paul Ryan. Winning the contest of turning him into either a villain or hero could determine the election in several states, none more important than Florida, the big kid on the swing-state block. Paul Ryan has great potential, the potential to be an asset or a liability to the Republican ticket. How he affects the election in Florida depends primarily on two voting groups, seniors and Hispanics.
We just don't know how he will play with those two groups. Polls show that most Americans don't know much about Rep. Paul Ryan. Political junkies either love or hate the Ryan Plan, but average Americans are more likely to be conversant on the latest contestants on "Dancing with the Stars" than on the intricacies of Ryan's budget proposal.
There will be a Medicare battle waged in Florida, a state with one of the biggest senior populations in the country. Democrats will say Ryan will end Medicare as we know it. Republicans will say he is a courageous leader who offers a responsible solution to the inevitable bankruptcy of Medicare and Social Security.
I live in Florida and have seen this movie before. It usually involves scary robo-calls and political mailers targeting seniors.
While in Florida, he should also do Hispanic outreach. Latinos don't know Ryan from Adán. Given the standing of the Republican brand with Latinos, that may be a good thing. Not being known is better than being disliked.
Soon after Ryan was named, my inbox filled up with e-mails about his vote against the Dream Act, which would allow undocumented young people brought here as children to become legal under certain circumstances. This is a popular and emotion-laden measure among Latinos. Ryan had also been an opponent of the U.S. embargo against Cuba. This is a heresy for a dependable voting block of Cuban-American Republicans. Yikes!