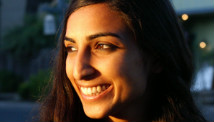 Editor's note: Valarie Kaur is the founding director of Groundswell, an initiative at Auburn Seminary that combines storytelling and advocacy to mobilize faith communities in social action. Her documentary "Divided We Fall" examines hate crimes against Sikh Americans after September 11. Kaur studied religion and law at Stanford University, Harvard Divinity School and Yale Law School, where she now directs the Yale Visual Law Project. Follow her on Twitter: @valariekaur.
By Valarie Kaur, Special to CNN
I have spent the past two weeks documenting the aftermath of what could be one of the deadliest racially motivated mass shootings in recent U.S. history. Through a camera lens, I've witnessed courage in the face of profound grief: families in Oak Creek, Wisconsin, mourning the dead, praying through tears and rebuilding their community in the Sikh spirit of chardi kala, a rising resilience even in darkness. But when family members walked out of a private meeting with first lady Michelle Obama on Thursday afternoon, I saw something entirely new in their faces.
For the first time, I saw them smile.
The first lady met privately with the families at Oak Creek High School, a few blocks from the Sikh gurdwara (house of worship) where a gunman opened fire August 5, killing six people and hospitalizing three more. The visit was more than symbolic; it was exemplary.
First lady meets with victims of Sikh temple shooting
Obama did not arrive with prepared speeches or prescriptions. Rather, she drew close to Sikh American families and listened to what is at stake: their ability to live, work and worship without fear. For Sikh Americans who have felt somewhat abandoned when the national attention dissipated a few days after the tragedy – and disappointed that President Obama did not immediately come to Oak Creek – the meeting has generated a wellspring of hope and healing.
"Michelle Obama didn't just grieve with us," said Kamal Singh, whose mother, Paramjit Kaur, was killed in the massacre. "She spent time with each family in turn, asking questions and listening to our pain and hope."
"She told me that my father was a hero," said Amardeep Kaleka, whose father, Satwant Singh Kaleka, died fighting the gunman. "That meant a lot to me."
"I'm really glad that the first lady came," said 18-year old Harpreet Singh, Kamal's younger brother. "I want to go into law enforcement to protect people and fulfill my mother's dream, but I don't want to give up my pagri (turban)."
Harpreet wears a turban in the Sikh tradition to represent devotion to God and commitment to service, but most turbaned Sikhs are barred from serving in the U.S. military and many law enforcement agencies.
"The first lady said that she would work on this for me, and I was shocked," Harpreet said, smiling. "She said that maybe one day I could become Secret Service and protect her!"
Harpreet is one of thousands of Sikh Americans whose struggle for civil rights and human dignity makes the future uncertain. Sustained second-class treatment compromises anyone's dreams. For Sikhs, the Oak Creek massacre was not random, indiscriminate or senseless as it was in Aurora, Virginia Tech or Columbine. It is the most recent tragedy in a long history of discrimination and violence Sikhs have faced in the past decade and long before. Sikh Americans want the tragedy in Oak Creek to serve as an alarm bell to end discrimination, not just against our community but against all communities.
Sikhs speak about long-held fears in their community
The gunman in Oak Creek was the product of homegrown hate. His hate happened to find expression at a Sikh gurdwara near Milwaukee. Tomorrow, it could be a mosque, a synagogue, a church or a secular humanist society in any city in America. It is the hate that we need to end and the healing that we have to begin.
And that healing requires deep listening and open storytelling.
We as Americans should follow the first lady's example. In a sputtering economy and polarized election season, we must do more than debate gun control to prevent another Oak Creek. We must ignite a national conversation about how to combat hate and build community in America. As we prepare for the 11th anniversary of September 11, we have an opportunity to listen deeply and discover bold new ways forward. Campuses can host film screenings and panel discussions, congregations can step up interfaith engagement, corporations can hold roundtable discussions, media can provide platforms for more voices, and government bodies can host town halls for public storytelling.
To be sure, we need more than storytelling alone. We need to wield our stories strategically in the courtroom, on the airwaves and online to challenge institutions of power. We need the federal government to track anti-Sikh hate crimes, allow turbaned Sikhs into the U.S. military and law enforcement agencies, and end racial profiling in immigration, national security and criminal arenas. We need educational institutions to expand curricula, workplaces to end discriminatory policies and political groups to call out anti-immigrant or anti-Muslim rhetoric. But all of these efforts depend on us coming together to listen, share stories and use them to apply collective pressure on legal and political institutions. Stories can be the starting point for action.
"Our parents were just grateful the flags were lowered to half-mast," said Sandeep Khattra, granddaughter of Suveg Singh, who was killed in the attack. "We grew up in this country, so we wanted more: We wanted to be heard. The first lady's visit feels like the first step."
During the visit with Obama, young people who lost their family in the Oak Creek massacre, including Sandeep, Kamal, Harpreet and Amardeep, presented the first lady with a gift: a simple orange wristband with the words "I Pledge Unity. August 5, 2012."
The first lady pulled up a chair after meeting each family and said, as the youth remember it: "We have much work to do as a nation. I'm ready to do my part."
Let's follow her lead.
The opinions expressed in this commentary are solely those of Valarie Kaur.