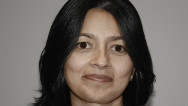 Editor's Note: Sayu Bhojwani is the former commissioner of immigrant affairs for New York City and the founding director of The New American Leaders Project. She is also a Ph.D. candidate in politics and education at Teachers College, Columbia University. Born in India, and raised in Belize, she is a naturalized citizen of the United States.
(CNN) - Something is strikingly similar about both conventions - a strong, underlying narrative that seeks to personally connect the speakers to viewers.
On the stage in Tampa, Florida, and Charlotte, North Carolina, we're hearing many American stories, rooted in the values that all Americans respect - hard work, individualism, family, community.
American voters want to know the person they're entrusting with the important business of running our country, and the convention speakers are trying to offer us perspectives on who they are by sharing key details of their biographies.
At the Republican National Convention, Condoleezza Rice shared her parents' hope that, though she could not sit at a Woolworth lunch counter as a child, she could be anything she wanted to be as an adult. Marco Rubio was influenced by his grandfather's understanding that his grandson had no limit because he was an American.
At the Democratic National Convention,  Julian Castro told how his mother's work enabled him to now hold a microphone, rather than a mop.  Michelle Obama shared how her father's hard work, despite having multiple sclerosis, was rooted in his desire to build a better life for his kids.
These stories inspired us and remind us of the possibilities in America - for us, and for our children.
But behind these stories, there has to be a plan for keeping the American dream alive for everyone. That's the challenge facing both parties, and stories will only go so far in convincing voters.
The speakers achieved the dream with their families' support, sacrifice and optimism; it is the same dream that guarantees that if you work hard in America, you can make it.
For that dream to continue to be possible for everyone, all elected officials and candidates should be thinking about the educational, employment and economic disadvantages facing some of their constituents.
Those disadvantages vary by ethnicity, and it's critical to understand those differences to be fully responsive.
For example, as of July 2012, unemployment was at 14.1% for African-Americans, 10.3% for Hispanics and 7.4% for whites.
So, it's no surprise that according to the Pew Foundation, the median wealth of white households is now 20 times that of black households and 18 times that of Hispanic households, the largest gap ever recorded.
In addition, the bursting of the housing bubble and plummeting values led to a 66% drop in median wealth for Hispanic households and 53% for black households, compared with just 16% for white households.
Why do these disparities matter?
Without affordable housing, quality education and career opportunities, the American dream is out of reach for many in this generation.
And no amount of sacrifice will help if these basic needs are not met.
In our work at The New American Leaders Project,where we train first- and second-generation immigrants to run for office, we also emphasize the importance of narrative. It's what we call Your American Story.
Underlying our participants" individual stories are often values that they share in common with others in their community.
What we ask is that these values not just help to shape the story they communicate but also influence the policies they promote. That's where our elected officials often fall short.
In the coming years, the Americans from minority communities holding elected office and speaking at conventions will no longer seem remarkable.
What remains a question, though, is how the parties and their representatives will truly respond to the fundamental policy concerns that help make the American dream possible for this and future generations.
The opinions expressed in this commentary are solely those of Sayu Bhojwani.