By Rusty Dornin, Special to CNN
(CNN) - Roberto and Amanda Melecio share many of the same nightmares.
They don't like crowds, rarely trust anyone and both suffer serious bouts of depression.  Married since 2005, they are both Iraq War veterans, and each has been diagnosed with post-traumatic stress disorder.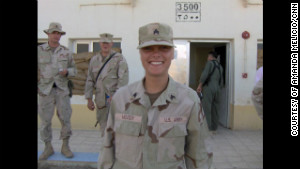 When Amanda Melecio came back from Iraq in 2005, she struggled to be the person she once was. "When I came home I couldn't socialize," Melicio says. "I have a lot of anxiety."
Her husband Roberto served as a scout and an Army combat engineer and disarmed bombs. "I was a human bulletproof vest," he jokes. He rarely sleeps and suffers from horrific nightmares. He struggles with his temper.
"We're not the normal couple. My wife and I are a rare breed." he says. "We happened to meet in the war."
While studies show women in the general population are twice as likely to suffer from post-traumatic stress as men, the rates for returning veterans are about the same - 20% for both men and women.
"We're definitely seeing more duel PTSD cases with returning vets," says Candice Monson, a clinical expert on how post-traumatic stress disorder affects couples.  "It's largely a product of the changing policy of women in the military. While women are not supposed to be in combat, the reality is they are."
For Amanda, her own anxieties tear her apart. And being married to a man suffering the same afflictions has been a test at times.
"I've become very distant from him," she says. "We are like ticking time bombs when we fight."
Roberto Melecio agrees. 'It can turn into an instant firefight".
According to a 2010 Pentagon report, nearly 12% of married couples on active duty are married to another service member. But there are no studies or statistics on the numbers of married couples with PTSD in or out of the military.
Roberto experienced firsthand his wife's brush with combat. Amanda was the only woman and only American training Iraqi soldiers on a hot April day in 2005. She had became used to the to the "thump, thump, thump" sound of of mortars pounding near the camp, but the distinctive whistle of an incoming rocket sent her running for cover that day.
As she dove between two big storage containers, she screamed at the Iraqi soldiers, "Take cover, take cover." She was hit in the back, head,  and neck by debris from the blast. When the attack was over, there was blood everywhere. She rushed to help the severely injured Iraqis, lining up three of them for medical evacuation.
Roberto was working at a supply job nearby. He heard the explosions and called her cell phone. "We got hit, we got hit," he heard her cry. He jumped in his pickup and drove "like crazy," knocking down fences to reach the camp. When he arrived, he saw Amanda had taken control of the situation.
"She had gathered up the group. She had saved three of them - if it wasn't for her, they wouldn't be around," he says proudly. "I'm not a hero, she is."
Amanda was awarded a combat action badge, which is rarely awarded to females, for her bravery following the attack.
"The amazing thing is that the women are doing as well as men in terms of being resilient from their experiences in the war zone," says Amy Street, a deputy director of the National Center for PTSD.
Experts say treatment of men and women with PTSD is similar, although the symptoms may manifest differently. Women tend to be more anxious and depressed, whereas men are more angry and have trouble controlling anger. Men are more likely to turn to substance abuse to cope with stress. Women are more likely to experience emotional numbing, a sensation Amanda Melicio says she knows only too well. She struggles to show affection to her 6-year-old son, Romello. "I can't be like, oh I love you, kind of mother," she sighs. "It's just different for me."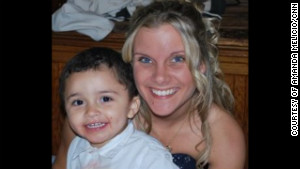 Candice Monson, who has studied many couples with PTSD, says this trauma bond can be a resilience factor for the relationship.
"We have a bond that's inseparable," says Amanda
The couple says most of their counselors shake their heads in disbelief that their marriage is still intact. One counselor, a former veteran, told them they would never make it. Something which angered them both. Roberto Melicio admits, "We've had our turbulent times, but we're working through them."
Roberto says he gets out in social situations more than his wife. "I have to have fun," he laughs, "I'm not being shot at anymore."
But it was harder for Amanda. There were no other female veterans in their community in New Hampshire. "I kept hearing about all this stuff for men, but I couldn't find anything."
In 2011, a Veterans Affairs counselor showed her a brochure for a sports therapy program in Idaho called Higher Ground. The program is one of a handful of recreational and sports therapy programs offering weeklong theraputic programs for male and female veterans. Amanda attended a women's only program with Roberto.
"Most programs only focus on the veterans, we focus on the supporters," says Bert Gillette, veteran outreach coordinator for Higher Ground. "They need to get out with their spouse and enjoy life. Many programs separate them and that doesn't do them any good."
For the first time Amanda connected with other female veterans. She snowboarded, with a vengeance and that boosted her self-esteem. "Higher Ground kind of helped us to realize that we are both individuals and that our symptoms are the same but we have different triggers. So we had to work together to figure that out. They helped our marriage by showing us we could do sports to find time together and have fun and not be so high-strung all the time."
Roberto had his own revelation. "I enjoyed watching them help my wife open up. While it was helping her, it helped me too because I realized what my wife was feeling".
He says it made him want to keep on fighting for the their marriage. "A relationship with these types of problems is not supposed to last, but it is."