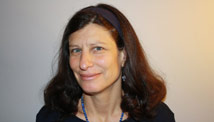 Editor's note: Susan Bodnar is a clinical psychologist who teaches at Columbia University's Teachers College and at The Stephen Mitchell Center for Relational Studies. She lives in Manhattan with her husband, two children and all of their pets.
By Susan Bodnar, Special to CNN
(CNN) - Almost every day brings an economic report with new statistics.
The numbers attempt to explain our society as a configuration of categories, boxes or slices on a pie chart.
In 2011, 46.2 million people fell below the poverty line. The top 1% has a household net worth of $16.4 million, while the median wealth is only $57,000. 

Median income falls, but so does poverty
These numbers don't tell the real story about people and their finances.
History does.
Honestly, I don't want to write this.
As a psychologist, I would like to hide how difficult it was to attain my education and my professional credentials, and how hard I still work! Once a person has achieved this thing called status it has become fashionable to act as if entitled to it, as though those who don't yet have it are neither smart nor hardworking enough.
Yet I have an obligation to not deny the generations of hardship out of which I have constructed my success.
Growing up, we didn't have much, but then again, we had not yet become a statistic in someone's pie chart.
Opinion: Learning from my great-grandmother's grocery list
I can still hear the scratch of my single working mom's pen as she tried to figure out how to afford to feed her two small daughters.
My eyes still tear when I think about how generous and humane my father has become even though his dreams were deferred.
Without realizing it, my uncle sacrificed his future to fight a war in Vietnam that he believed would protect his nieces from harm.
My family's proud veterans served in every war this country has ever waged and didn't always come home healthy - some not at all - but they fought with honor and dignity.
Not everybody emerged from the journey to upward mobility unscathed, but their scars became the lessons upon which I have built my life.
My grandmother, who lived through the Great Depression, explained to me that everybody helped each other then. When the government, unions and hospitals also pitched in, everybody gave back to them, too.
They made peace with humility, compassion and God.
The truth is, I have climbed upon and learned from decades of family striving, or because a friend, a teacher, a professor, or a clergy reached out when they saw me struggle.
Opinion: Coming together in difficult times
No one, no matter which graph on the financial chart they occupy, succeeds in this country without the shadows of generational pain hovering on their walls.
And no one, no matter which graph on the financial chart they occupy, succeeds in this country without facing the shadows of his or her own mistakes hovering on their walls.
As we rush upwardly ahead, how often do we deny our connection to those who once had to pray for food, went sleepless with worry, and continually dodged dangers from which they had no protection?
How often do we deny the very history that can teach us to be the citizens that the future will require us to be?
The only shame about financial differences ought to be how people can be so involved with their own excess that they fail to respect those with less or to lend support to those in need.
The successes and failures of anyone's family could fill a novel.
Having "arrived" –whatever that means - no one should turn their backs on the struggle that has been part of every family's story.
The opinions expressed are solely those of Susan Bodnar.