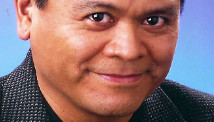 Editor's Note: Emil Guillermo is a journalist and author. He writes for the Asian American Legal Defense and Education Fund and at www.amok.com.
By Emil Guillermo, Special to CNN
(CNN) - To the average American, the name Wilma Lamug may not have any meaning at all. But to the more than 3 million people in the Filipino-American community, the name could some day be as important as that of Rosa Parks.
Lamug and 68 other nurses in California's Central Valley have achieved a major victory in their two-year language discrimination fight against the Delano Regional Medical Center. Without admitting guilt, the medical facility has agreed to undergo anti-discrimination training and monitoring, and more importantly, pay out a settlement to the nurses of nearly $1 million, according to the Los Angeles Times.
The nurses' advocates at the Asian Pacific American Legal Center call the deal the largest language discrimination settlement in the U.S. health care industry.
Some might be very familiar with discrimination based on skin color or an ethnic look - but based on language or accented English? Some people - especially those who feel that English and only English should be spoken in America - might lack sympathy.
If that's you, the case of the Filipino nurses of Delano, California, is instructive to understand how language discrimination can lead to a hostile workplace, one that's unhealthy and illegal.
Attorneys for the Equal Employment and Opportunity Commission said the Delano nurses faced "constant harassment and humiliation when they opened their mouths, or talked with family members on the phone," the LA. Times reported. Essentially, the nurses were suppressed by an outright ban against speaking Tagalog or any other native Filipino dialect anywhere on hospital grounds. Although other languages from other countries like Mexico and India were spoken at the hospital, only the Filipino speakers were targeted. In fact, co-workers and security guards all were encouraged to be "vigilantes" and report any incidents of speaking in Filipino dialects. Anyone caught in violation of the language policy was threatened with suspension and termination.
The hostility and intimidation reached a tipping point in 2006. When Lamug launched a complaint to management after a hospital worker reacted to the distinctive scent of Filipino food, which is often fried and garlicky or with a fish-like aroma. Lamug claimed the co-worker sprayed room deodorizer directly on a Filipino nurse's lunch, the L.A. Times reported.
The ugly incident brought out a real hatred for all things Filipino and is directly related to the language ban. The situation gave Lamug the courage to speak out and organize others, which ultimately led to the suit alleging civil rights violations against the hospital.
Ironically, what people were reacting to wasn't always a Filipino dialect. "Sometimes, we were speaking English," Lamug said in the L.A. Times. "But due to our accent and diction, they thought we were speaking something else."
As a Filipino-American, I can hear Lamug just by reading her quote. It is the accent of my parents, a sound I hear in my ear and in my heart.
Tagalog and the other dialects all have a Spanish lilt, thanks to more than 300 years of Spanish colonization. And thanks to decades of American colonialism, English is an official Philippine language, too. Pronunciation gets tricky. Some Filipinos pronounce the V sound like a B - "banilla ice cream," for example - or the F and P sounds can mix - Porky Pig might be "Forky Fig."
It can make for some unintended humor. But  when their accented English brought on the ire of hospital management, there was nothing humorous about how they were treated.
In some ways, it's particularly fitting that the nurses in Delano have triumphed. The history of Filipino immigrant protest in the United States dates back to the 1950s and 1960s, well before Cesar Chavez and his United Farmworkers. At that time, Filipino immigrants were the primary farm workforce in California and were organized by Filipino-American labor leaders Philip Vera Cruz and Larry Itliong. It was Itliong in 1965 who led the walkout at table grape farms, in what is known in labor history as the Delano grape strike.
As the farmworkers came to be dominated by Mexican labor, Chavez took over the union and most of the Filipinos left the fields. As new immigrants from the Philippines continued to arrive in this country, many turned to the health services area, including thousands who work under special visas to fill nursing shortages. Hence the critical nature of the Delano case: If this could happen in a hospital in Delano, where Filipinos are up to 12% of the population, most assuredly it is happening to some degree elsewhere, where Filipinos are just another immigrant group.
But will those Filipino-Americans have the courage to fight back like Lamug and the Delano nurses?
I don't speak with an accent, and can sound like a white man from Omaha, Nebraska. But there have been times when, as a young reporter, I would be subjected to overly chummy managers all too willing to share their racist jokes in a Filipino accent. Too young and insecure to fight back, I only wish I had had the fighting spirit of the nurses back then.
Most of the time Filipino-Americans do not file suit, preferring to "go along to get along." It means the bullying and intimidation are allowed to take place and slowly fester, with Filipinos left to internalize the racism that clearly has no place in America.
Indeed, to all immigrants who speak with an accent - not just Filipino-Americans - the Delano nurses' triumph is an inspiration.
The opinions expressed in this commentary are solely those of Emil Guillermo.