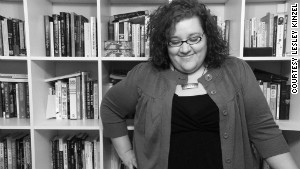 Editor's note: Lesley Kinzel is an associate editor at xoJane.com and the author of "Two Whole Cakes: How to Stop Dieting and Learn to Love Your Body."
(CNN) - Designer Ralph Lauren is making model-related headlines again.
The last time this happened, it was when the iconic American branddigitally altered model Filippa Hamilton into a biologically impossible state, rendering her waist and pelvis in miniature and leaving the rest of her body normal-sized.
Astute critics noticed and spoke up. It didn't help matters when Hamilton herself stated that she was allegedly fired by the brand for being "too fat" by fashion world metrics.
More recently, however, the Ralph Lauren brand has made attempts to improve its image and hired Australian plus-size model Robyn Lawley, who stands 6-foot-2 and wears a size 12, for a print campaign. After the public relations nightmare with Hamilton, many have heralded this choice as a positive sign of improvement in a fashion industry that overwhelmingly hires and promotes models who are far thinner than the average American woman.
As is often the case when any plus-size model makes news, many are eager to hold this up as a victory for "real women," that anonymous majority who so rarely get to see themselves portrayed in fashion images.
But don't get too enthusiastic with the back-patting just yet.
This is not a revolutionary moment, any more than it has been any other time a mainstream designer has plucked a nonwaifish model from the depths of the plus-size-modeling dungeon and made her, however briefly, a public curiosity. Fashion is famously fickle, and if Ralph Lauren has chosen to showcase this particular model at this particular moment, it may have nothing to do with making some grand political statement or a significant change of heart and everything to do with generating buzz.
Of course, I can't know the brand's intentions for certain. But in the larger context, even widespread use of plus-size models doesn't signal the evolution of a movement away from the impossible feminine physical ideal; it's just taking that ideal and making it a tiny bit bigger.