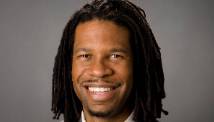 Editor's note: LZ Granderson, who writes a weekly column for CNN.com, was named journalist of the year by the National Lesbian and Gay Journalists Association and a 2011 Online Journalism Award finalist for commentary. He is a senior writer and columnist for ESPN the Magazine and ESPN.com. Follow him on Twitter: @locs_n_laughs
By LZ Granderson, CNN Contributor
(CNN) - This morning I decided to wear jeans.
I could've gone with sweat pants, but I needed to stop by a couple of offices and didn't want to look too relaxed. I could've done slacks but didn't want to look too uptight. I'm not big into khakis and it's too chilly for shorts, so jeans won out.
I decided to go with the French Roast over the Morning Blend. When I got in my Jeep, I decided to listen to Eric Church as opposed to Zac Brown Band or Craig Morgan. I opted not to run that red light. I chose to park on the street as opposed to the nearby lot.
And just before I got out of the car, I chose to be gay.
I was going to make that decision earlier, but you know how hectic mornings can be. I'm just glad I remembered when I did. I've been known to go all day without remembering to pick a sexual orientation, which can make things pretty awkward at home.
Now, if that last part sounds a bit stupid to you, welcome to my world.
The idea that people can just pick their sexual orientation the way the pick what to wear or what kind of coffee to drink is so irrational that even conservative vice-presidential nominee Paul Ryan had a problem going along with that line of thinking.
Read LZ Granderson's full column