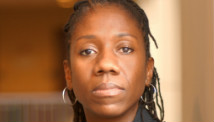 Editor's note: Sherrilyn A. Ifill is a professor at the University of Maryland School of Law and the chairwoman of the U.S. Programs Board of the Open Society Foundations. She is the author of "On the Courthouse Lawn: Confronting the Legacy of Lynching in the Twenty-first Century."
By Sherrilyn A. Ifill, Special to CNN
(CNN) - Mitt Romney's strong debate performance and his apology for his callous remarks deriding 47% of the American public appear to be moving his poll numbers up in some states. But Romney's reinvigorated campaign is unlikely to move black voters.
Black support is at 0%, according to a NBC/Wall Street Journal poll (PDF) reported in late summer. The reasons for this may have powerful implications for the future of black political strength in presidential elections.
It's worth recognizing that the unwillingness of black voters to offer any measurable support for the Republican presidential candidate is unprecedented. It's not enough to say that blacks are voting for President Obama because he's black and that racial solidarity trumps politics. Or to note that black voters are overwhelmingly affiliated with the Democratic Party.
Sen. John McCain and vice presidential candidate Sarah Palin ran against a considerably more charismatic and untarnished Obama - who was still black in 2008. McCain received 4% of the black vote. Black voters offered measurable levels of support to George W. Bush, 8% in 2000 and 11% in 2004; Ronald Reagan, 11%; and even Richard Nixon, 18%.
One of the reasons African-American voters do not support Romney is that they see the Republican Party's treatment of Obama, from the first weeks of his presidency, as an assault on a kind of racial collective dignity. This includes remarks such as GOP trash-talker John Sununu's description of the first black president of the United States as "lazy" after his poor debate performance.
Read Sherrilyn A. Ifill's full column