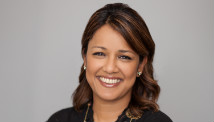 Editor's note: Anika Rahman is president and chief executive of the Ms. Foundation for Women.
By Anika Rahman, CNN
(CNN) - After Thursday's vice presidential debate, MSNBC's Lawrence O'Donnell was emphatic that moderator Martha Raddatz's question about the role of the candidates' faith in their positions on abortion had "absolutely no business in a government that has a separation of church and state."
In the now-famous words of Vice President Joe Biden, "That's a bunch of malarkey."
All of us are guided by an internal code of morality, whether it is dictated by religion or by personal responsibility to humankind. Both Rep. Paul Ryan and Biden were explicit that their faith informs all of their decision-making, and that includes issues related to a woman's body.
"I don't see how a person can separate their public life from their private life or from their faith," Ryan said. Biden echoed his sentiments, saying his religion "defines" who he is and has "particularly informed" his social doctrine. (The difference in their approaches lies in Biden's refusal to shape national abortion policy according to his personal beliefs, an important distinction for candidates to make.)
While abortion is often framed as a matter of rights (with many women supporting it merely on principle rather than personal necessity), its implications for women go far beyond the mere theoretical.
Read Anika Rahman's full column