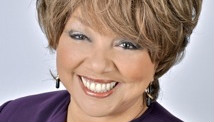 Editor's note: Carole Simpson is the leader-in-residence at Emerson College's School of Communication in Boston, where she teaches journalism and communications classes. She is the first woman or minority to be the sole moderator of a presidential debate and chronicled her 40 years as a broadcast journalist in her memoir, "Newslady."
By Carole Simpson, Special to CNN
(CNN) - Should there be any doubt now that women can handle presidential debates as well as men? That they can conduct a live television event that lasts for 90 minutes before an audience of 60 million viewers? That they can be smart, bold and professional in dealing with the men who would be president and vice president of this great nation?
No. There should be no doubt at all. CNN's Candy Crowley and ABC's Martha Raddatz have finally banished that old false notion that "men are better" to the grave it deserves.
Of course, after former PBS anchor Jim Lehrer lost control of the first presidential debate in Denver, Raddatz and Crowley were masterful in comparison. Lehrer, the journalist who was moderating his 12th presidential debate, at times threw up his hands in exasperation as President Obama and former Gov. Mitt Romney ignored the guidelines on time limits for statements and rebuttals. The testy rivals wrested the debate away from Lehrer, and he was pretty much reduced to the role of a potted plant.
Raddatz then moderated the vice presidential debate, where she had been warned that Vice President Joe Biden might engage in some "funny stuff." Biden found Paul Ryan funny, and he found himself funny, but under the firm hand of Raddatz, both men did as they were directed. The vice presidential debate was not only enlightening but enjoyable.
Poor Candy Crowley. She had to moderate the second debate in the town-hall format, which became the most contentious presidential matchup in recent memory. There, she was with a nervous audience of 80 undecided voters and two men who can't stand each other. Obama and Romney could not be more different: in family history, socioeconomic upbringing, political ideology, social status and, of course, color. The only thing they have in common is Harvard Law School and nice families.
Obama blew the first debate by appearing disengaged and bored with the whole process. Romney, with an energetic and aggressive style, won.
The president was determined to change the public's perception of him by changing his style, his answers and his enthusiasm for the second debate. Romney was ready for the Obama makeover. Crowley was ready for both of them.
I wouldn't have traded places with her for anything. The candidates entered the arena – yes, that's what the debate floor became - already seething, despite the plastered smiles and phony handshake.
This was supposed to be a debate dominated by questions from the undecided voters, but it quickly deteriorated into something that looked like a cockfight.
Throughout the debate, Crowley juggled so many balls in the air: listening to the producer in her ear, calling on audience members, watching the time, asking follow-up questions, paying attention to the candidates' answers, deciding who had the next question or rebuttal.
She was doing all this with an up-close and too-personal display of male bravado. I was waiting for one of the candidates to beat his chest or jump on the other's back. It was that nasty.
Crowley, with the utmost politeness, struggled to remain in control despite being interrupted by Romney. Did she retreat like a shy violet or burst into tears? Not her. She prevailed.
Crowley raised two sons. I have to believe that she harkened back to those days when her boys misbehaved and she had to discipline them. Now before her eyes were the president of the United States and the former governor of Massachusetts, circling each other defiantly like naughty boys. She finally said, with all the power she could muster in her voice, "If I could have you sit down, Gov. Romney." And he did.
In 2016, the Commission on Presidential Debates should not hesitate to seek out women to be moderators. Candy Crowley and Martha Raddatz proved that the best women can stand on equal footing with the best men. Thank you, ladies.
The opinions expressed are solely those of Carole Simpson.