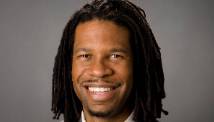 Editor's note: LZ Granderson, who writes a weekly column for CNN.com, was named journalist of the year by the National Lesbian and Gay Journalists Association and is a 2011 Online Journalism Award finalist for commentary. He is a senior writer and columnist for ESPN the Magazine and ESPN.com. Follow him on Twitter: @locs_n_laughs.
By LZ Granderson, CNN Contributor
(CNN) - I would call Sarah Palin's use of "shuck and jive" in a Facebook post criticizing President Barack Obama another one of those dog whistle messages to racists, but it's far too obvious to be covert. The woman who claimed to be an LL Cool J fan in her first book knew exactly what she was doing.
Why she did it is anyone's guess.
Maybe she's still mad Bristol didn't win "Dancing With the Stars," maybe she thought Donald Trump was hogging the dunce cap, or maybe she's so completely tone-deaf she thought she was helping the country.
But she's not. Anything that encourages the decades-long trend of racial division along party lines is not good for the country.
Mitt Romney may very well become the next president. But the polls suggest if he does, he will have little minority support. In a country that is growing browner by the decade, Republicans relying solely on white people to win elections is not a sustainable strategy.
And it's not a strategy that's reflective of the party's long history - from President Abraham Lincoln to a Republican-led Congress passing the Ku Klux Klan Act in an attempt to dismantle the group.
The Civil Rights Act of 1964 may have been signed by a Democratic president, but Republicans were the ones who provided the push in Congress necessary to get it to his desk. Remember in those days, Democrats didn't turn a blind eye to racism; they were oftentimes the racists, especially in the South, whose Democratic lawmakers led a 57-day filibustertrying to stop the passage of the Civil Rights Act.