By Moni Basu, CNN
(CNN) - Every now and then, Logan Smith likes to search Twitter for things he thinks people would never say. Just for his entertainment.
Like when astronaut Neil Armstrong died, Smith typed in: "Who is Neil Armstrong?" Who in America doesn't know about the man to who took a giant leap for mankind? Sure enough, he found, there were a bunch of folks who had no idea.
In the midst of all his searches, Smith made a startling discovery: a lot of people like to start tweets with this line: "I'm not a racist, but..."
What followed seemed clearly racist to Smith, a 25-year-old white man from Columbia, South Carolina, who writes a politics and policy blog called The Palmetto Public Record.
Smith was shocked. Dismayed by what he read.
"It's ridiculous to think that people don't think they are racist when they say these things," he says. "Some people say we are living in a post-racial society. Now we have a black president, somehow that made everything OK. But that is completely not the case."
So Smith decided to call some tweeps out.
About a month ago, he started a Twitter handle called @YesYoureRacist.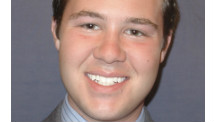 The avatar gif mouthing the words "That's racist!" came from the show "Wonder Showzen," which used to air on MTV2.
He picks a tweet that says "I'm not a racist, but..." then retweets it with a simple reply: Yes, you are.
He directs his responses to any tweets he finds offensive. They mention dislike of white people, black people, foreigners and people of different ethnicities. Some use derogatory language and names, or worse.
If Smith gets a response, it usually starts with a four-letter word. More often than not, there is no conversation.
Sometimes, they respond like Twitter user @J_woww16, who originally tweeted, "im not racist but i never liked the idea of having a black president #awkward"
She disagreed with Smith's statement that she's a racist - she said not liking a black man as president was a matter of opinion, not racism.
[tweet https://twitter.com/YesYoureRacist/status/261859126504738816%5D
It's rare, though, for Smith to respond. Usually, he lets other people challenge them.
Smith says he set up a search for "I'm not a racist" to find the tweets. He can find enough in one day to last him for a week, a fact that he finds rather disturbing.
He also tries to sort through them, weeding out tweets he thinks are intended as irony versus those he plain finds offensive.
"I am depressed for humanity," he says, "but I have kind of learned that society is what it is and hopefully, publicizing some of the awful things people say on Twitter will help bring about a change."