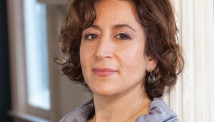 Editor's note: Hanna Rosin is the author of the new book, "The End of Men: And the Rise of Women." She is co-founder of Slate's DoubleX, a web magazine about women issues.
By Hanna Rosin, Special to CNN
(CNN) - I almost always get asked the same question: How can it possibly be the "end of men" when there are so few female elected officials - when men still hold the reins of political power?
It's an excellent question. Until now, I've answered by pointing to statistical trends and future projections. Always, I ask people to take a leap of faith. But after this election, I feel like I am on so much more solid ground.
The women's vote did not turn out to be historic in the way pundits predicted before the election. Yes, more women voted for President Obama, but not in record numbers. The gender gap was in fact a little smaller in this election than in 2008. Yes, women were important in certain states, but so were young people, African-Americans and Latinos, who, together, make up Obama's new winning coalition. What's more, women did not even constitute a unified vote. Married women tended to vote for Romney, while single women went for Obama.
What changed in this election was that women accumulated power in a calm and measured way, and began to look for the first time much less like outsiders to the political process.
Read Hanna Rosin's full column