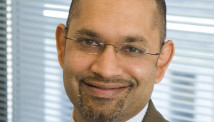 Editor's note: Ali Noorani is the executive director of the National Immigration Forum, an organization based in Washington that advocates for the value of immigrants. Follow him on Twitter.
By Ali Noorani, Special to CNN
(CNN) - Both parties have received an electoral politics wake-up call, courtesy of a diversifying America.
President Obama won re-election thanks in part to a 52-percentage-point spread among Latino voters, the nation's fastest-growing electorate, according to election eve polling.
In the America coming over the horizon, it is practically impossible to overcome such a number and win the race for president.
According to the polling by Latino Decisions, Hispanic voters nationally and across every battleground state swung heavily to Democrats.
And it wasn't even close. Nationwide, the margin was 75% to 23%. And there were remarkable spreads in the tightest of swing states: 87% to 10% in Colorado, 82% to 17% in Ohio, 66% to 31% in Virginia. (CNN's own poll showed a smaller but still significant spread nationwide - 71% to 21% - and in the swing states).
Even in Florida, with its large, Republican-leaning Cuban population, the Latino Decisions poll found that Latinos overall favored the president 58% to 40%.
While these trends worked to Democrats' advantage on the ground on Tuesday, that's not entirely good news: A demographically challenged Republican Party is bad for America.
As a nation, we are at our best when both parties work together to address difficult policy issues. And, in the case of immigration - an issue of great concern to Latinos - a bipartisan roadmap is good politics and great policy.
Read Ali Noorani's full column