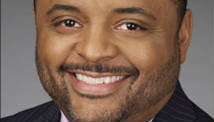 Editor's note: Roland Martin is a syndicated columnist and author of "The First: President Barack Obama's Road to the White House." He is a commentator for the TV One cable network and host/managing editor of its Sunday morning news show, "Washington Watch with Roland Martin."
By Roland Martin, CNN Contributor
(CNN) - As political pros, journalists and pundits pick over exit polls to study how and why President Obama beat Mitt Romney for the presidency, a lot of the attention has been showered on the Latino turnout, gender gap and voters under 30.
The African-American turnout has largely been overlooked, seen by prognosticators as a no-brainer for President Obama.
There was never any doubt he was going to receive the overwhelming majority of black support. In 2008, Obama won 95% of the black vote, with black women voting at a higher rate than any other group in the country.
But six to nine months ago, numerous Obama campaign workers were privately expressing concern about the enthusiasm level of black voters, and about whether the massive 2008 turnout could be equaled.
They hoped registration efforts and get-out-the-vote drives would kick in at the right time.
Re-electing the first black president was clearly a motivating factor for African-Americans, but what also should be noted is the Republican Party's efforts to enact voter suppression laws.
Not only were black folks angered and shocked at Republicans' blatant attempts at voter suppression in Ohio, Pennsylvania, Florida, Virginia, Texas and other states, they exacted revenge at the ballot box.
Read Roland Martin's full column