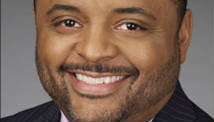 Editor's note: Roland Martin is a syndicated columnist and author of "The First: President Barack Obama's Road to the White House." He is a commentator for the TV One cable network and host/managing editor of its Sunday morning news show, "Washington Watch with Roland Martin."
By Roland Martin, CNN Contributor
(CNN) - If you took a moment during the heat of the presidential race to drop by the Mitt Romney campaign office, you would have been shocked by the number of white people working to get him elected. About the only color you would have seen were the red and white in the Romney-Ryan posters.
If you met with Romney's senior campaign team - the decision makers - you would have said major corporations in America have more diversity on their boards of directors than these guys.
At a Romney campaign event, followers of mine on Twitter always played the "do-you-know-that-one-black-person-who-is-always-standing-behind-Mitt-with-a-sign" game. Seriously. Seeing someone black, Hispanic or Asian at a Romney campaign rally was always a sight to behold.
So why in the world is Mitt Romney now largely blaming minorities for the butt-kicking administered to him by President Obama?
Read Roland Martin's full column