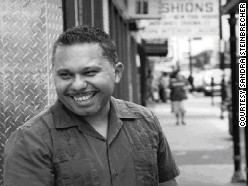 Editor's note: Editor's Note: Ray Salazar is a National Board Certified English teacher in the Chicago Public Schools. He writes about education and Latino issues on the White Rhino Blog. Follow him on Twitter @whiterhinoray.
By Ray Salazar, Special to CNN
(CNN) - Finally, Republicans and Democrats know that they need more than mariachis playing behind them to win the Latino vote. By now, almost everyone heard about the Latino influence this presidential election.
The signs were everywhere. Maybe this is the 2012 cosmic event predicted by the Mayan calendar. Now, President Obama must recognize Latino views as he moves forward with economic recovery and immigration policy and farther with education reform.
None of the parties should have been surprised by the Latino vote. On October 7, CNN's "Latino in America: Courting the Latino Vote" reported that more than 60,000 Latinos turn 18 each month across the country, and we care about more than immigration. When Latinos were given a choice between what's more important, immigration or the economy, 74% chose the economy.
Obama's modified DREAM Act did, though, help secure 71% of the Latino vote. Romney's unclear view of immigration reform contributed to only 27% of his Latino vote.
More notably, the Latino vote for Obama exceeded the national Latino average in some battleground states: 87% in Colorado, 80% in Nevada and 82% in Ohio.
These votes indicate that the conversations need to change. For too long, education reform remained a black and white issue, racially and politically. Our educational system as is does not work, especially not for Latinos. According to the National Center for Education Statistics, the Latino dropout rate is almost double that of African-Americans and about three times higher than that of whites.
Read Ray Salazar's full column