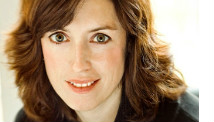 Editor's note: Danielle McGuire is the author of "At the Dark End of the Street: Black Women, Rape and Resistance-a New History of the Civil Rights Movement from Rosa Parks to the Rise of Black Power." She is an Assistant Professor in the History Department at Wayne State University, and a Distinguished Lecturer for the Organization of American Historians. She lives with her husband and two children in metro Detroit.
By Danielle McGuire, Special to CNN
(CNN) - In 2011, Rosa Parks was in the news, six years after her death. An excerpt from a breathtaking essay she wrote in the 1950s about a "near rape" by a white man in Alabama was released to the public.  The handwritten narrative detailed Parks' steely resistance to a white man, "Mr. Charlie," who attempted to assault her in 1931 while she was working as a domestic for a white family.
It was late evening when "Mr. Charlie" pushed his way into the house and tried to have sex with her.  Having grown up in the segregated South, she knew all too well the special vulnerabilities black women faced. She recalled, for example, how her great-grandmother, a slave, had been "mistreated and abused" by her white master.
Despite her fear, she refused to let the same thing happen to her. "I knew that no matter what happened," she wrote, "I would never yield to this white man's bestiality." "I was ready to die," she said, "but give my consent, never.  Never, never." Parks was absolutely defiant: "If he wanted to kill me and rape a dead body," she said, "he was welcome, but he would have to kill me first."
Does that sound like the Rosa Parks we know?
Some of the guardians of Parks' legacy have said it is not, and insist the essay was fiction. But by dismissing the writings as fiction, it retains the popular image of Rosa Parks as a simple seamstress whose singular and spontaneous act launched the civil rights movement that brought down the walls of segregation.
This popular presentation of Parks as a quiet but courageous woman, whose humble righteousness shamed America into doing what was right has become a mythic fable present in nearly every high school history textbook, museum exhibit, and memorial.
December 1, 1955: Rosa Parks arrested
She has been imprisoned by this tale, frozen in time as a silent and saintly icon whose only real action was to stay seated so that, in the words of her many eulogists, "we could all stand up."
This overly simplistic story makes it impossible to imagine her essay about Mr. Charlie as anything but fiction.
But what if we knew more about the real Rosa Parks—a militant race woman and sharp detective whose career as a human rights activist spanned seven decades?
It's time to free Rosa Parks from the bus.