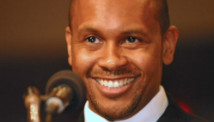 Editor's note: Kevin Powell is an activist, public speaker and author or editor of 11 books, including "Barack Obama, Ronald Reagan, and the Ghost of Dr. King: Blogs and Essays." E-mail him at kevin@kevinpowell.net, or follow him on twitter @kevin_powell
By Kevin Powell, Special to CNN
(CNN) - My cousin Aaron abruptly typed me the news while we were texting back and forth about other matters: a Kansas City Chiefs football player killed his girlfriend, then went to the team's practice facility and committed suicide in front of his head coach and general manager. Left behind was the couple's 3-month-old daughter, who was in another room when her mother was shot multiple times. Like so many Americans, we were stunned.
We would learn later that player was Jovan Belcher, 25-year-old starting linebacker for the Chiefs, a man and an athlete spoken of in the highest regard by everyone from his high school teammates and coaches to his fellow professional football players. They, too, were stunned.
Indeed, what would lead a man who, by all accounts, loved family, friends and football and had overcome great odds to make the National Football League as an undrafted pick out of the University of Maine to take such shocking actions? A man raised by a single mother, he had achieved so much in such a short period that he had widely been considered a great role model for what could be done through hard work, grit and determination.
Read Kevin Powell's full column