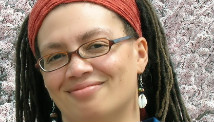 Editor's Note: Carleen Brice is author of the novels "Children of the Waters," a story about race, identity and what really makes a family, and "Orange Mint and Honey," which was made into the television movie "Sins of the Mother." She's working on her next novel, "Every Good Wish." Her book for writers, "The Not So Fearless Writer," is forthcoming from Agate Publishing in 2013.
By Carleen Brice, Special to CNN
(CNN) -  I have copper skin and freckles.
When I was a girl, my hair was red (which I was told came from an Irish ancestor), but as I've aged it has darkened to brown. I no longer straighten my hair, but when I did I was sometimes confused for a white person. I have always self-identified as black. I knew and know no other way to think of myself.
We have a mix of races on both sides of my family.
I am the daughter of a beige, straight-haired woman who in 1971 when I was 8 followed me around for weeks begging me to let her cut my hair and style it in an Afro. I am the daughter of a brown man who as a boy yelled at the movie screen for Tarzan to "get those jungle niggers," and as a young man kept his children home from school on Malcolm X's birthday. To my mother, black was beautiful. To my father, black was a chance to be proud. FULL POST