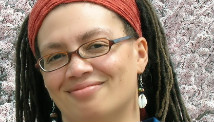 Editor's Note: Carleen Brice is author of the novels "Children of the Waters," a story about race, identity and what really makes a family, and "Orange Mint and Honey," which was made into the television movie "Sins of the Mother." She's working on her next novel, "Every Good Wish." Her book for writers, "The Not So Fearless Writer," is forthcoming from Agate Publishing in 2013.
By Carleen Brice, Special to CNN
(CNN) -  I have copper skin and freckles.
When I was a girl, my hair was red (which I was told came from an Irish ancestor), but as I've aged it has darkened to brown. I no longer straighten my hair, but when I did I was sometimes confused for a white person. I have always self-identified as black. I knew and know no other way to think of myself.
We have a mix of races on both sides of my family.
I am the daughter of a beige, straight-haired woman who in 1971 when I was 8 followed me around for weeks begging me to let her cut my hair and style it in an Afro. I am the daughter of a brown man who as a boy yelled at the movie screen for Tarzan to "get those jungle niggers," and as a young man kept his children home from school on Malcolm X's birthday. To my mother, black was beautiful. To my father, black was a chance to be proud.
On my father's side, I am the granddaughter of a light-skinned woman who as a child was forced to leave Arkansas with her family when her brother hit a white kid with a stick and word came that the Klan was on its way.
They settled in Omaha, Nebraska, putting down deep roots in the community. They joined Claire United Methodist Church, where my grandmother has belonged for more than 80 years. My Uncle Charles opened the Fair Deal Café, and my Aunt Delores married the owner of Thomas Funeral Home.
My grandmother became a cook at the county hospital and married a man with skin like midnight. My grandfather served in the all-black 530th Quartermaster Battalion in World War II, and often had to fight white soldiers for respect. He loved music and had a knack for public relations. In a different world he would have been a band manager or music promoter when he was discharged from the Army. Instead, he worked as a porter, cab driver and security guard. Instead of a career, music became his hobby. He made friends with musicians and compiled a renowned collection of black music (and sports) memorabilia.
To my grandparents, black (which came after "colored") was Count Basie, Dinah Washington, Jackie Robinson and Cassius Clay. It was Jet magazine and the Omaha Star. It was working as cooks and cabbies Monday through Friday and partying at the Dreamland Ballroom on Saturday night. It was serving your country even when your country sometimes didn't serve you. It was family and friends. Black was, in a word: home.
On my mother's side, I am the granddaughter of a peach-toned woman who as a girl was blond. Her beloved grandfather was dark-skinned and his last name was Black. He was known by blacks and whites in the small community where they lived in Texas as "Daddy Black." As a toddler, she transposed the nickname and called him "Black Daddy."
One time when Black Daddy was taking his crop to market, white farmers from outside the region saw a black man with a white-looking child and assumed she had been kidnapped. Strangers ripped my grandmother from Black Daddy's arms, disregarding his explanations and her screams of terror.
She told me that story two years ago, and it finally explained why she was hostile toward my red hair when I was young. It explained why she had rinsed my aunt's red hair with tea to try to darken it. One of the worst things you could say to my grandmother was that she looked white. I named a white character in one of my novels Lois and my grandmother, mistakenly assuming the character was named after her, was wounded. To her, black was security. Looking white was a danger she didn't want for her children or grandchildren.
So to me, black is all those things: beauty, pride, food, music, love, home. Yet black is both the sum of my parts and not the whole equation.
I have a privilege that my foremothers and forefathers didn't—I can identify as more than my race or skin color. I'm a woman, a writer, an American, simply human. It's one reason I created a blog to promote black authors to others in addition to black readers. Our stories are universal.
I would never tell anyone else how they should identify themselves. But I come from Mom, Dad, Grandmama, Papa, Grandma and Black Daddy. And I am black like them.
The opinions expressed in this commentary are solely those of Carleen Brice.