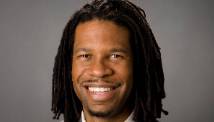 Editor's note: LZ Granderson, who writes a weekly column for CNN.com, was named journalist of the year by the National Lesbian and Gay Journalists Association and a 2011 Online Journalism Award finalist for commentary. He is a senior writer and columnist for ESPN the Magazine and ESPN.com. Follow him on Twitter: @locs_n_laughs
By LZ Granderson, CNN Contributor
Grand Rapids, Michigan (CNN) - December 13, 1996.
My son, barely a few moments old, is crying. I walk toward the medical room bassinette where he is lying, smile, and then tell him not to worry... daddy's here. And then ever so gently I place his tiny hand inside mine and again tell him daddy's here... I will keep you safe.
He stops crying.
I start.
And thus began a parent and child relationship that is probably no different than the billions that came before that night and the billions in the 16 years after. Of all the natural instincts that enslave my body, the desire to love and protect my son is a master I have never rebelled against. And I am sure many of you can agree: Being a parent can be both a person's greatest joy and greatest sense of anxiety.
"I will keep you safe," is what we tell them.
And then something like the shooting at Sandy Hook Elementary happens, or the shooting at the mall in Oregon, or the movie theater in Aurora, and you are reminded of how increasingly difficult it is to do just that.
There have been 31 school shootings since Columbine in 1999, and sadly there is not a damn thing to suggest there won't be 31 more.
In my 20 years of journalism, I have had quite a few conversations with mourning mothers and fathers who have had to bury their children. Last year I interviewed a father who dropped his son off at football practice and never saw him alive again - taken by an undiagnosed heart ailment. I cried for hours afterward. I'm sure that father still cries on occasion today.
But something different grips your soul when you know the cause of a child's premature death was not brought on by ill health or an accident, but rather an outbreak of senseless violence that took place somewhere we once viewed as safe - like an elementary school. Or as we saw late this summer in Wisconsin, a place of worship.
FULL STORY