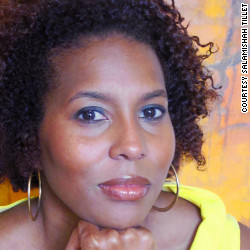 Editor's note: Salamishah Tillet is an assistant professor of English and Africana studies at the University of Pennsylvania ­and author of "Sites of Slavery: Citizenship and Racial Democracy in the Post-Civil Rights Imagination." She is co-founder of the charity, A Long Walk Home Inc., which strives to end violence against girls and women.
By Salamishah Tillet, Special to CNN
(CNN) - Quentin Tarantino set out to make his newest film, "Django Unchained," to avenge Hollywood's amnesia of slavery.
"How can you ignore such a huge part of American history?" the director recently told Newsweek magazine. "Hollywood didn't want to deal with it because it was too ugly and too messy."
On this point, he is right.
Unlike the preponderance of movies on other historical atrocities - including the Holocaust, which Tarantino tackled in "Inglorious Basterds" - there have only been a handful of Hollywood films made on American slavery. And none were directed by an African-American.
Unfortunately, the vast majority of those movies were racist.
Dating back to D.W. Griffith's "The Birth of a Nation" in 1915, white slave masters were heroes and formerly enslaved African-Americans were villains.
"Gone With the Wind," the 1939 box-office smash, did no better as slave characters like Prissy, Mammy and Uncle Peter appeared as docile and happy servants.
These two films alone dominated all subsequent Hollywood representations of slavery until late 20th-century movies such as "Glory," "Amistad" and "Beloved" depicted African-Americans as resistors.
But films on slavery have never been about the past alone. FULL POST