By Moni Basu, CNN
(CNN) - Ayana Mathis' story seems one of overnight sensation.
It begins like this: She was on vacation in Paris and was expecting a 15-minute call for a couple of quotes about her first novel.
She picked up the telephone to hear the voice of none other than Oprah Winfrey, who'd tapped Mathis' debut work for her book club.
And whoosh! She was off.
Publisher Knopf sped up her publication date by six weeks and increased the initial print run to 125,000.
Mathis' face appeared in magazines and newspapers along with profiles and a glowing review in The New York Times.
It was, she said, stunning.
She felt like a pendulum, swinging from elation one moment to overwhelmed the next.
She always thought of her writer hat as being quiet and solitary. Now she was wearing the author hat - author with a capital A. This was a public enterprise.
"When it happens this quickly and with this much force, it certainly takes a minute to grasp," she said.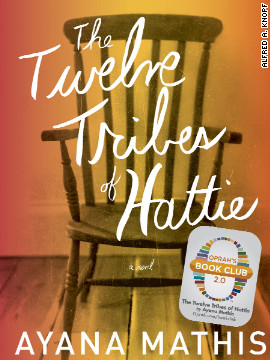 There is no doubt that "The Twelve Tribes of Hattie" is destined to become a bestseller.
No doubt that readers will come to know Hattie Shepherd and how she fled Georgia in 1923, hoping for a better life in relatively free Philadelphia, gave birth to 11 children and suffered through a world that was not kind.
But Mathis' success in her telling of this fictional Great Migration story did not come without her own trials and tribulations, of years of experimenting with writing and wrangling with faith in her own abilities.
She was only 9 when she began writing short stories. She showed them to her mother, who raised her by herself in a working class neighborhood of Philadelphia.
"We didn't grow up with very much money at all. In fact, very, very, very little," said Mathis, 39.
One would think her mother, in the Hattie Shepherd style of things, would have pushed her only child in a direction of stability and wealth.
"The pragmatic thing to do was for her to go: 'OK, I have a relatively intelligent child. I am going to encourage her to be a lawyer or a doctor.' Instead she was the first person to enormously cheer me on for my little book of short stories."
But Mathis' mother was well-read in the classics, and when she was pregnant she read aloud to her unborn daughter. She was her daughter's biggest supporter.
Later, when Mathis was in her 20s, she took up writing poetry until one day when all she could muster was, in her own words, a watery, clunky mess.
"I never thought of writing as a career goal," Mathis said. "I thought of it as a thing I would always do because I loved to do it."
So she had a day job - as a waitress, as a fact-checker for a magazine. After her poetry stopped flowing, Mathis gave up writing altogether. Years passed before she felt the tug again. This time, she took up a different form of writing: a fictionalized memoir.
She had culled snippets of lives from speaking with people in Philadelphia whose families were part of the Great Migration. She began to document who some of these people were. Who they might have been.
Between 1915 and 1970, more than 6 million African-Americans moved from Southern states into Northern cities like Philadelphia as well as those in the Midwest and West, a migration documented in Isabel Wilkerson's groundbreaking "The Warmth of Other Suns."
"That's a lot of folks who left the South," Mathis said. "It absolutely and utterly changed the United States - demographically, culturally, politically, artistically," she said. "But it's surprisingly undiscussed."
Few in America, she felt, knew about this exodus.
Then friend and novelist Justin Torres, whom she had met in a New York writing class, was accepted into the Iowa Writers' Workshop. She went to visit him there and felt a calling.
She submitted her fictionalized memoir chapters as part of her application to Iowa. She came out of the program with "The Twelve Tribes of Hattie."
The book is loosely inspired by Mathis' family. Hattie was part of the Great Migration just as Mathis' own grandmother had been. But mostly, the characters evolved from Mathis' imagination.
Hattie's firstborn twins die of pneumonia; she has nine more children. Each chapter of the book advances the family story through their eyes. Each is like a mini-book within the book that accrue as a novel to reveal Hattie's personal journey as well as that of an entire people.
"Hattie's life is unrelentingly difficult," Mathis said. "I think that sort of approaching her in a more conventional way would have made her one-dimensionally full of suffering. This way, Hattie is constantly being refracted through the prism of her children."
Mathis said she discovered the complexities of Hattie along the way, as she wrote each chapter. She understood her through the children she created.
"Hattie knew her children did not think her a kind woman - perhaps she wasn't but there hadn't been time for sentiment when they were young," Mathis writes towards the end of the book. "She had failed them in vital ways, but what good would it have done to spend the days hugging and kissing if there hadn't been anything to put in their bellies?"
Mathis said she still doesn't know if she fully understands Hattie, the depths of her bleakness and the heights of her courage.
It's not hard to figure out why this book appealed to Winfrey, who has invoked author Toni Morrison's name in her description of Mathis.
Winfrey told NPR that she wanted to choose the book for her relaunched book club after reading the first chapter.
"They say you can't tell a book by a cover, but I just saw the title, 'Twelve Tribes of Hattie,'" Winfrey said. "My grandmother's name was Hattie Mae Lee and so I picked it up because of the title, and opened to the first page. I saw Philadelphia and Jubilee. You know that's some black people. So, I thought, let me get in here, see if I know these people, and in five pages, I did."
Mathis is now a beneficiary of the "Oprah bump."
She's taking it all in stride and has even started to think about her next novel, the idea for which is still "delicate."
"It's in a dark sub-basement. It's down there," she said.
She knows what it kind of looks like but it will have to come out, she said.
After Mathis' first success, the world will be waiting.