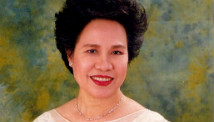 Editor's note: Miriam Defensor Santiago is in her third term as a member of the Philippines Senate and a co-sponsor of the Reproductive Health Bill. She is also the founder of People's Reform Party. Last year she was selected to be a judge in the International Criminal Court, though she has still to take office.
By Miriam Defensor Santiago, Special for CNN
Manila, Philippines (CNN) - We were like David against Goliath. We fought long and hard, and in the end we prevailed.
After 14 long years in the dustbins of Congress, mainly due to strong opposition from the Catholic Church, the Reproductive Health (RH) Bill was approved by both the Senate and the House of Representatives on Monday, 17 December 2012.
Indeed, there is no force more powerful than an idea whose time has come. And the time for a Philippine reproductive health law is now.
The Philippines remains one of the poorest countries in the world because, among other things, for a long time, it refused to acknowledge what could easily be seen when one glances out the window: the country desperately needs a reproductive health law.
Not having a reproductive health law is cruelty to the poor. The poor are miserable because, among other reasons, they have so many children. Providing reproductive knowledge and information through government intervention is the humane thing to do. It can help the poor escape the vicious cycle of poverty by giving them options on how to manage their sexual lives, plan their families and control their procreative activities. The phrase "reproductive rights" includes the idea of being able to make reproductive decisions free from discrimination, coercion or violence.
FULL STORY