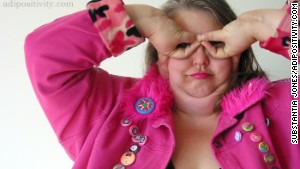 Editor's note: Marilyn Wann is author of "FAT!SO?" and a weight diversity speaker internationally. She is the creator of Yay! Scales, which give compliments instead of numbers.
(CNN) - After a careful review of all relevant research worldwide, the U.S. government's leading analyst of weight data just confirmed what I've long known: Being fat might not be a death sentence.
That this study reported in the Journal of the American Medical Association seems at all shocking is a measure of the intensity and pervasiveness of weight prejudice in our society and in our sciences.
I take an interest in the topic because I'm fat and because I don't have a death wish. I'm also interested because, like so many fat people, I've encountered weight discrimination when I seek routine medical care. I was 26 years old when I was denied the right to purchase health insurance. I had no significant history of illness or injury. I was just fat. That day, I became a fat rights activist.
In the intervening years, I've heard from so many people who fear for their lives when they encounter weight discrimination in our health care system.
 As a fat activist, I help as much as I can, but I'm no federal agency.
Read Marilyn Wann's full column