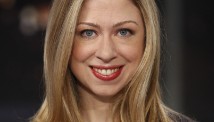 Editor's note: Chelsea Clinton works with the Clinton Foundation and the Clinton Global Initiative and serves on the boards of both organizations. She is a special correspondent for NBC News and also serves on the boards of the School of American Ballet, Common Sense Media and the Weill Cornell Medical College. She and her husband, Marc, live in New York City.
By Chelsea Clinton, Special to CNN
(CNN) - I'm proud to be the honorary chair of the National Day of Service happening this Saturday, inspired by Martin Luther King Jr.'s life and legacy. It's the perfect way to kick off the inauguration weekend because anyone can participate, and we know that when we work together, we will achieve more than one person could on his or her own.
President Barack Obama, Vice President Joe Biden, members of Congress and their families will be rolling up their sleeves at service projects in our nation's capital. But you don't have to be in Washington to get involved. From repairing fire-damaged homes in Colorado and cleaning sidewalks in Detroit to spending time with children with disabilities in New Orleans, every state will offer opportunities to volunteer.
All these projects have one big thing in common: They're making a community, our country and our world better. That's part of what makes service special. Whether it's volunteering time, skills, ideas or resources, we all can make a difference.
When I was growing up, my parents and grandparents taught me that engaging in service, helping our neighbors and building strong communities are all part of being a good citizen and a good person.
My grandmothers, Virginia and Dorothy, embodied that conviction.