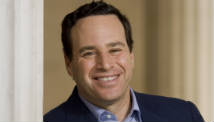 Editor's note: David Frum, a CNN contributor, is a contributing editor at Newsweek and The Daily Beast. He is the author of eight books, including a new novel, "Patriots," and a post-election e-book, "Why Romney Lost." Frum was a special assistant to President George W. Bush from 2001 to 2002.
By David Frum, CNN Contributor
(CNN) - Massacres such as Newtown are horrifying and heart-rending. They are also nothing like the typical American gun murder.
The typical murder has one victim, not many. The typical murder is committed with a handgun, not a rifle. And in the typical murder, both the perpetrator and the victim are young black men. Blacks are six times as likely as whites to be the victim of a homicide. Blacks are seven times as likely to commit a homicide.
The horrifying toll of gun violence on black America explains why black Americans are so much more likely than whites to favor gun control.
Conversely, fears of being victimized by violence explain why so many white Americans - especially older and more conservative white Americans - insist on the right to bear arms in self-protection. They see gun violence as something that impinges on them from the outside. They don't blame guns for gun violence. They blame a particular subset of the population. And they don't see why they should lose their right because some subset of the population abuses theirs.