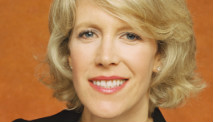 Editor's note: Leslie Morgan Steiner, a Washington, D.C., native, is on the advisory boards of the DC Volunteer Lawyers Project, the One Love Foundation and the National Domestic Violence Hotline. She is author of the memoir "Crazy Love." She spoke at TEDx Rainier in 2012. TED is a nonprofit dedicated to "ideas worth spreading," which it makes available through talks posted on its website.
By Leslie Morgan Steiner, Special to CNN
(CNN) - This week, as the Senate decides whether to reauthorize the Violence Against Women Act and Valentine's Day approaches, it's worth noting that most domestic violence victims don't ask for roses, chocolate or federal funding. Instead, we have one simple wish: We want the abuse to end.
We don't want the relationship to end.
This fact about "crazy love" surprises many people. How could you still love someone who has hurt you?
The answer is as complicated as love itself. We victims tend to be hope junkies, open-hearted and optimistic. We believe that our loved ones are capable of change. Some would say we are naïve. Others say we are too kind or too forgiving. Often we cannot find the courage to leave an abusive relationship until our life (or our children's safety) has been threatened.
When victims end an abusive relationship, the first thing we need is shelter. This is the No. 1 request made by victims who call the National Domestic Violence Hotline, the federally funded national helpline (1.800.799.SAFE). It is a practical request - a roof over our heads. But it is also an emotional one - the deep need to seek safety and to protect our children from danger.
FULL STORY