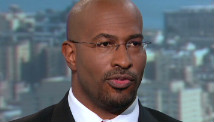 Editor's note: Van Jones, a CNN contributor, is president and founder of Rebuild the Dream, an online platform focusing on policy, economics and media. He was President Obama's green jobs adviser in 2009. He is also founder of Green for All, a national organization working to build a green economy.
By Van Jones, CNN Contributor
(CNN) - Tonight, our nation's first black president will deliver the first State of the Union of his historic second term. The time has come for him to say something about the disproportionate pain that his most loyal voting bloc - black Americans - are experiencing  today.
Winning two successive elections hasn't just proven that this nation is great enough to rise above the racial discrimination of its very recent past. It's also opened the door to more frank conversations about continuing racial challenges in America.
Just look at the fierce debate over immigration going on in America today. We have progressed to the point where commentators and politicians freely discuss how to court "the Latino vote." They happily and eagerly insist that politicians should court the "Latino vote" and champion so-called "Latino" issues, like immigration reform. Discussing the promise, contributions and the needs of particular, ethnic communities in a big, diverse nation is no longer taboo.
In his State of the Union address, President Obama should acknowledge that while economic pain in today's American is not limited to any one community,  some communities are in more trouble than others. Prioritizing broad prosperity for all doesn't mean ignoring the fact that some folks are further behind.
The truth is, the black community finds itself in the worst of all possible situations - both economically and politically. FULL POST