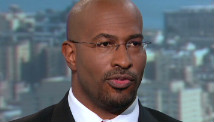 Editor's note: Van Jones, a CNN contributor, is president and founder of Rebuild the Dream, an online platform focusing on policy, economics and media. He was President Obama's green jobs adviser in 2009. He is also founder of Green for All, a national organization working to build a green economy.
By Van Jones, CNN Contributor
(CNN) - Tonight, our nation's first black president will deliver the first State of the Union of his historic second term. The time has come for him to say something about the disproportionate pain that his most loyal voting bloc - black Americans - are experiencing  today.
Winning two successive elections hasn't just proven that this nation is great enough to rise above the racial discrimination of its very recent past. It's also opened the door to more frank conversations about continuing racial challenges in America.
Just look at the fierce debate over immigration going on in America today. We have progressed to the point where commentators and politicians freely discuss how to court "the Latino vote." They happily and eagerly insist that politicians should court the "Latino vote" and champion so-called "Latino" issues, like immigration reform. Discussing the promise, contributions and the needs of particular, ethnic communities in a big, diverse nation is no longer taboo.
In his State of the Union address, President Obama should acknowledge that while economic pain in today's American is not limited to any one community,  some communities are in more trouble than others. Prioritizing broad prosperity for all doesn't mean ignoring the fact that some folks are further behind.
The truth is, the black community finds itself in the worst of all possible situations - both economically and politically.
First of all, a large part of the African-American community is in economic free fall. I am not talking only about those sections of the black community that have been mired in poverty for generations now - of course, they need and deserve more focused support and attention. I am also talking about the African-American middle class that was devastated by the housing collapse, lost 80% of its wealth, and has yet to recover even a fraction of it from those difficult days four years ago.
The private sector is still statistically quite hostile to black job seekers: The national unemployment rate is 7.9%, but African-Americans suffer from 13.8% unemployment. Meanwhile, budget-slashing Republicans are working hard to attack, demonize, and defund the public sector jobs upon which much of the black professional class was built. Add one more problem: sky-high costs of college.  These problems collectively constitute an economic emergency for all Americans - and a super-emergency for our black communities.
Second, African-Americans are also in the wilderness politically. One major political party - the GOP - ignores us, and the other simply takes us for granted. For any Democratic nominee for president of the United States to have a chance, he or she must generate high turnout among African-Americans - and usually win more than 80% of our vote. In other words, we are the main pillar of the Democratic Party.
But neither party has made a priority of addressing the excessive unemployment, loss of housing, lack of opportunity, and yes, continuing racial discrimination and over-incarceration that continue to plague the African-American community.
The immigration debate teaches us that these issues don't need to divide minority communities. The leading spokespersons for African-Americans - stalwarts like Ben Jealous of the NAACP - are fully on board with immigration reform. It is remarkable that a devastated community is still willing to stand in solidarity with another minority population. With that kind of mutual care and cooperation, we can make sure every American is lifted by a rising tide.
Tonight, as the president discusses the State of the Union, he should specifically acknowledge the disproportionate agony of the African-American community. The union is only as healthy and strong as its weakest links. He should propose common-sense fixes that meet the need.
Many such steps would help all Americans. For example, in addition to expanding access to home refinancing (which he will do tonight), he should go one step further and support resetting some deeply underwater mortgages to today's fair market value. He should not just talk about small fixes to student debt, but how to ensure every single young person can get the education they need to succeed. He should defend public sector employees and denounce the Wall Street obsession with cuts. Most of all, he should lay out a bold plan to put people back to work right now in the hardest-hit communities.
All of these steps will help all Americans. And yet they would have the additional positive effect of strengthening some of the weaker links in America's chain, including those that exist in the black community.
It is time for all people of conscience to start pushing back against a political dynamic that insists African-Americans participate in the electoral system - but get little or nothing out of it, even in the midst of an economic catastrophe.
When ALL of America is stronger, all of America is STRONGER.
America must have an honest discussion about how to address a continuing economic catastrophe in the black community. And the president should lead the way.
The opinions expressed in this commentary are solely those of Van Jones.