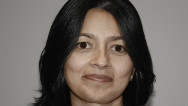 Editor's Note: Sayu Bhojwani is the former commissioner of immigrant affairs for New York City and the founding director of The New American Leaders Project. She is also a Ph.D. candidate in politics and education at Teachers College, Columbia University. Born in India and raised in Belize, she is a naturalized citizen of the United States.
By Sayu Bhojwani, Special to CNN
(CNN) -  President Obama's State of the Union speech spoke to a changing America: one that is 37% minority, one with the most diverse Congress in history and one that Sen. Marco Rubio's parents immigrated to.
Tuesday night, the president focused on the No. 1 issue for all voters in 2012: the economy.
By addressing the middle class, he put the "American dream" at center stage, a goal that has become increasingly harder to achieve for many families.
It is a dream that Rubio, R-Florida, described in his rebuttal. As a child of immigrant parents who "made it to the middle class," he inherited "the real opportunity to accomplish (his) dreams."
Although Rubio argued against much of what the president proposed, both agree on three goals: strengthening the middle class, uplifting immigrant contributions and keeping the American dream accessible.
They also agree that to fix our economy, our immigration system needs to be fixed. FULL POST