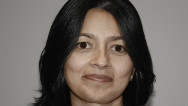 Editor's Note: Sayu Bhojwani is the former commissioner of immigrant affairs for New York City and the founding director of The New American Leaders Project. She is also a Ph.D. candidate in politics and education at Teachers College, Columbia University. Born in India and raised in Belize, she is a naturalized citizen of the United States.
By Sayu Bhojwani, Special to CNN
(CNN) -  President Obama's State of the Union speech spoke to a changing America: one that is 37% minority, one with the most diverse Congress in history and one that Sen. Marco Rubio's parents immigrated to.
Tuesday night, the president focused on the No. 1 issue for all voters in 2012: the economy.
By addressing the middle class, he put the "American dream" at center stage, a goal that has become increasingly harder to achieve for many families.
It is a dream that Rubio, R-Florida, described in his rebuttal. As a child of immigrant parents who "made it to the middle class," he inherited "the real opportunity to accomplish (his) dreams."
Although Rubio argued against much of what the president proposed, both agree on three goals: strengthening the middle class, uplifting immigrant contributions and keeping the American dream accessible.
They also agree that to fix our economy, our immigration system needs to be fixed.
"We can also help our economy grow if we have a legal immigration system that allows us to attract and assimilate the world's best and brightest. We need a responsible, permanent solution to the problem of those who are here illegally. But first, we must follow through on the broken promises of the past to secure our borders and enforce our laws," Rubio said in his speech.
The president, too, emphasized immigration reform as a benefit to the economy:
"Our economy is stronger when we harness the talents and ingenuity of striving, hopeful immigrants. And right now, leaders from the business, labor, law enforcement and faith communities all agree that the time has come to pass comprehensive immigration reform."
The current immigration system is broken, and that broken system encourages the abuse of undocumented workers and the skirting of minimum wage laws by predatory employers, putting downward pressure on wages.
The visa system, which sends many brilliant foreign students home after receiving a world-class education and makes it nearly impossible to bring bright immigrants to the country to work, is not only inefficient but bad for our economy.
Fixing immigration would bring a $1.5 trillion benefit to the economy over 10 years and add $66 billion in tax revenue.
Bringing undocumented immigrants into the mainstream economy can result in higher wages for all Americans and create additional economic benefits such as increasing jobs and innovation and lowering prices in industries dominated by immigrants.
In his speech in Las Vegas on January 29, Obama spoke about immigration reform not just in humanitarian terms but in economic terms:
"But we all know that today, we have an immigration system that's out of date and badly broken; a system that's holding us back instead of helping us grow our economy and strengthen our middle class."
The economic benefits are not up for debate. But, how and whether we get a pathway to citizenship for 11 million undocumented immigrants is. The details of that path will be one area of contention within the comprehensive immigration reform debate.
The sooner these details are sorted out, the better - for our economy and for our nation.
The opinions expressed in this commentary are solely those of Sayu Bhojwani.