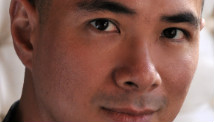 Editor's note: Michael Hung is a chef and writer living in San Francisco.
By Michael Hung , Special to CNN
(CNN) - I've had three long-term relationships in my life, all with Asian-American women.
It was never a conscious decision to date solely within my race. In most ways, those relationships were serendipitous. I'd met intelligent, loving, beautiful girls who happened to look like me. But this idea of happy coincidence, in retrospect, was only partially true.
While I never sought to date within my race exclusively, it was, admittedly, easier.
Easier in that she automatically removed her shoes at the door. Easier in that I could slurp noodles and gnaw at chicken feet unabashed. And easier on my ego, because when I asked an Asian-American girl for her phone number, she would give it. I would not be dismissed, or snickered at, or overhear, "But he's Asian," from a friend on the wing.
I attributed the difficulties of dating outside my race to external factors, social forces I'd learned about in college classes. I was subject to the model minority myth: How sexy can a calculator toting conformist be? I was castrated by the Chinese Exclusion Acts,  where my own government once declared it illegal for my ancestors to enter the country I call home.
Those laws, in existence until 1943, surely pervaded public consciousness, and as such affected my love life, didn't they?
Mainstream media portrayals of Asian males -Mr. Yunioshi in "Breakfast at Tiffany's," William Hung on "American Idol," Hiro Nakamura, the Japanese computer engineer turned supermutant on "Heroes" - consistently cast me as a socially deficient, sexless jester.
Even the Korean pop music phenom, PSY, is known for his clownish giddy-up dance rather than his ability to croon to the ladies like Frank Sinatra.
Under these influences, how can the American public see a young Asian-American man as an object of desire? How can a young Asian-American man see himself as a sexual creature?
What did I see when I looked in a mirror? I saw more than my genetics, more than my socially accepted role.
I saw a boy who'd once dreamed of growing up to be a chef. I saw a child who'd loved to read and had ambitions to write stories of his own. I saw that, in my early adult life, worrying about things like identity, I'd forgotten that I'd once known who I was.
And so, I left a corporate career to pursue a life in cooking. While working as a full-time chef, I completed a master's  program in creative writing. My weeks had no end. Nights had little sleep. My mind and heart hadn't the space for romance as I pursued my childhood aspirations.
The paradox has been that when I developed these other identities, my romantic life blossomed. I now date more women and women from all racial backgrounds. Perhaps it is my sure sense of direction, or status that comes with hard work and success, or confidence that arises from achieving goals that women find attractive.
All these traits derive from my strong sense of self-identity developed after many years of hustle, self-reflection and commitment.
I gained an identity that set me apart from the masses in general, but especially apart from the stereotype of the  soft, slant-eyed eunuch in particular.
Cook, writer, thinker, instigator - these are parts of me that I don't question.
I found another piece of myself one night, when I was 28 years old, seated beside a young woman on the polished hardwood floor of her apartment. I grasped in one hand a tangle of her sandy blond hair. My other hand rested upon her cream colored throat, my fingers gently pressed on her jugular so that I could feel her quickened pulse.
She looked at me, eyes wet and expectant, lips slightly parted. I drew my face close to hers. She strained toward me and whined when I pulled away. She grabbed the collar of my shirt, tried to pull me in, but I held fast and kept my lips just out of reach. The warmth of her breath washed over my face. Her body arched into mine. "Stop teasing, sexy man," she said. "You're a lover, aren't you?"
A lover?
Yes. That, too.
In that moment, I knew I would never question it again.
The opinions expressed in this commentary are solely those of Michael Hung.