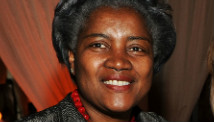 Editor's note: Donna Brazile, a CNN contributor and a Democratic strategist, is vice chairwoman for voter registration and participation at the Democratic National Committee. She is a nationally syndicated columnist, an adjunct professor at Georgetown University and author of "Cooking with Grease." She was manager for the Gore-Lieberman presidential campaign in 2000.
By Donna Brazile, CNN Contributor
(CNN) - Politicians and historians love to use the word "crossroads."
It's become as American, and cliched, as "Mom's apple pie." The historian Shelby Foote, wrote, "The Civil War defined us as what we are and it opened us to being what we became, good and bad things. ... It was the crossroads of our being, and it was a hell of a crossroads."
I have been thinking about the word, because this year's Black History Month theme is "At the Crossroads of Freedom and Equality: The Emancipation Proclamation and the March on Washington." Two pivotal events that shaped modern American history.
A "crossroads" is literally the intersection of two or more roads - two or more paths to get to the same place. Metaphorically, it refers to the place - the moment - of a critical decision. Shall we go forward together? Shall we separate? Shall we fight?
We mark history's crossroads not by road signs but by the documents that identify them. The Declaration of Independence is certainly one. Who has not memorized the opening of the second paragraph? "We hold these truths to be self-evident, that all men are created equal, that they are endowed by their Creator with certain unalienable Rights, that among these are Life, Liberty, and the Pursuit of Happiness."
FULL STORY