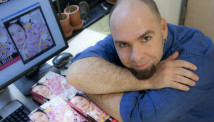 Editor's Note: Alberto Ferreras is a New York City based writer and filmmaker, who created the "Habla" documentary series for HBO Latino, and co-creator of "El Perro y El Gato" for HBO Family. He is also the author of  "B as in Beauty" .

By Alberto Ferreras, Special to CNN
(CNN) –When I interviewed Lupe Ontiveros in 2009 for the HBO Latino special "Celebrity Habla", she told me: "You gotta have a lot of chutzpah, cojones, huevos, capisce? Specially a woman middle age like myself,  4-foot-11, and a Latina ... And all I can sell you is ... raw ... survivor ... talent."
Lupe represented a whole generation of talented Hispanic actors who had been denied the chance to play anything but maids, thugs and drug dealers.
According to Lupe, she had played a maid more than 150 times.
But at the time of our interview she was tired of complaining: She had a juicy part in "Desperate Housewives" and  preferred to talk about the roles that she was planning to do "now that things are starting to change".
Stars left out of 'In Memoriam' Oscar tribute
I am tired of complaining, too. Tired of explaining why it's so important for Latinos to see ourselves on the screen, that movies give us the chance to see ourselves as lawyers, doctors, and heroes.
That every time Latinos are acknowledged for their contribution in the media, it makes a huge impact on the dreams and aspirations of the largest minority in the country.
So while I was deeply moved to see Lupe featured in the in memoriam montage of the Screen Actors Guild Awards,  I don't understand why she wasn't included in the Oscars tribute on television. FULL POST