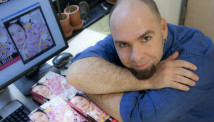 Editor's Note: Alberto Ferreras is a New York City based writer and filmmaker, who created the "Habla" documentary series for HBO Latino, and co-creator of "El Perro y El Gato" for HBO Family. He is also the author of  "B as in Beauty" .

By Alberto Ferreras, Special to CNN
(CNN) –When I interviewed Lupe Ontiveros in 2009 for the HBO Latino special "Celebrity Habla", she told me: "You gotta have a lot of chutzpah, cojones, huevos, capisce? Specially a woman middle age like myself,  4-foot-11, and a Latina ... And all I can sell you is ... raw ... survivor ... talent."
Lupe represented a whole generation of talented Hispanic actors who had been denied the chance to play anything but maids, thugs and drug dealers.
According to Lupe, she had played a maid more than 150 times.
But at the time of our interview she was tired of complaining: She had a juicy part in "Desperate Housewives" and  preferred to talk about the roles that she was planning to do "now that things are starting to change".
Stars left out of 'In Memoriam' Oscar tribute
I am tired of complaining, too. Tired of explaining why it's so important for Latinos to see ourselves on the screen, that movies give us the chance to see ourselves as lawyers, doctors, and heroes.
That every time Latinos are acknowledged for their contribution in the media, it makes a huge impact on the dreams and aspirations of the largest minority in the country.
So while I was deeply moved to see Lupe featured in the in memoriam montage of the Screen Actors Guild Awards,  I don't understand why she wasn't included in the Oscars tribute on television.
Maybe for the members of the Academy of Motion Pictures, her screen accomplishments were not enough.  Perhaps her 35 years in the movie industry representing Latinos with courage and dignity didn't earn her the right to be honored at such a prestigious event.
Latinos in the entertainment industry were waiting to see her in the Oscar memoriam - not just for a tribute to her exquisite talent, but as the promise that Hollywood is truly willing to accept us for what we are: people. Talented people. Hardworking people.
Just like everyone else in the film industry.
Just like everyone else in America.
Lupe passed away prematurely,  before she could tackle a fresh new batch of characters that the entertainment industry was promising.
"I'm not through yet, because I'm going to take me places that no one has ever imagined. Not even I have imagined," she told me.
We can only imagine what that might have been. That's why those of us who admire her talent will have to find solace and memories in those tiny parts that we find so inspiring –from "The Goonies" to "As Good as it Gets" — and in a handful of movies like "El Norte," "Selena," "Chuck & Buck" and "Real Women Have Curves," where she was given the chance to fill the screen with her captivating presence.
I would like to believe  Lupe is up in heaven, doing some wonderful play for God, performing all those parts that she was denied on while here on earth.
But if she happened to be watching the Oscars from above, I hope that she wasn't hurt or offended for being snubbed by the Academy.
Her absence in that tribute only made her memory more resonant.  It reminded us that for some in Hollywood, Latinos are good enough to buy movie tickets, but not good enough to be seen on the screen.
And I think that we need to change that.
The opinions expressed in this commentary are solely those of Alberto Ferreras.