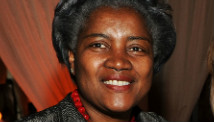 Editor's note: Donna Brazile, a CNN contributor and a Democratic strategist, is vice chairwoman for voter registration and participation at the Democratic National Committee. She is a nationally syndicated columnist, an adjunct professor at Georgetown University and author of "Cooking with Grease." She was manager for the Gore-Lieberman presidential campaign in 2000.
(CNN) - On Tuesday, President Barack Obama was at the Capitol, joining leaders of Congress to dedicate a statue in honor of the "Mother of the Civil Rights Movement," Alabama's Rosa Parks. About the same time, across the street at the Supreme Court, an Alabama lawyer was arguing that a key provision of the Voting Rights Act - the consequence and legacy of the Civil Rights Movement - was unnecessary and unconstitutional.
The irony lies not only in the timing or juxtaposition, but the institutions.
On December 1, 1955, Rosa Parks refused to give up her seat when a white bus driver ordered her to move. Twelve years earlier, the same driver had grabbed her coat sleeve and pushed her off his bus for trying to enter through the front rather than the back door. This time he said, "Well, if you don't stand up, I'm going to have to call the police and have you arrested." She replied, "You may do that."
Her arrest led to a 381-day boycott of Montgomery buses by the black community. The boycott propelled the Rev. Martin Luther King Jr. to prominence as a civil rights leader. And the arrest of Parks and the boycott she inspired led to a civil law suit, Browder v. Gayle, in which the Supreme Court declared the Alabama and Montgomery laws requiring segregated buses unconstitutional.
It took Congress 10 years to catch up to the Supreme Court, when it passed the Voting Rights Act in 1965.
Although Alabama's at it again with the new challenge, this time it seems the conservative majority of the Supreme Court wants to roll back the clock. Frank C. Ellis Jr., the attorney for plaintiff Shelby County, argues that Congress exceeded its authority in 2006 when it reauthorized Section 5 of the Voting Rights Act for another 25 years.
FULL STORY