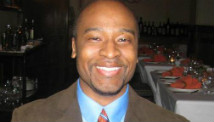 Editor's note: John S. Wilson is a contributing writer for Forbes, Huffington Post and Black Enterprise. He frequently writes about health and education policies and politics. He's on Twitter at @johnwilson.
By John S. Wilson, Special to CNN
(CNN) – When I was around 12 or 13, one of just a few black students in my entire grade, a substitute teacher made inappropriate remarks about slavery. When I got home, I just knew my mother would do something about it; this was a woman who visited my school as though she had to punch a clock.
She listened, said the teacher was wrong, and that was it. No angry phone calls, no marching to the school, no request for anyone to be reprimanded or fired. I was shocked. But she told me that my school didn't share the same values as that teacher, and she was confident the unfortunate incident was temporary but the values the school instilled were permanent.
That's what a school's mission is all about: permanency. Instilling character that cannot be tarnished by temporary incidents – even when very offensive – over which it has little control.
But Oberlin College in Ohio made a very poor decision this week. Classes were canceled in response to a rash of racist and anti-gay incidents aimed at students and a student's report she had seen someone on campus dressed in a white hooded robe. (Police said they received a report of a student wearing a blanket, but couldn't say whether the incidents were related.)
On Monday, the campus held a "Day of Solidarity," which consisted of diversity programming, an Africana teach-in, and what Meredith Gadsby, chairwoman of the Africana Studies Department, called "positive propaganda." If you're at a loss for exactly what that is, think a collegiate version of a "Sesame Street" marathon, minus Oscar the Grouch.
Oberlin passed up an opportunity. Instead of canceling classes, they should have continued normal business while finding ways to draw upon their incredibly strong history of diversity and inclusion.
By canceling classes and generally overreacting – let's face it, racism and baseless discriminatory scrawls on posters and walls will never go away – Oberlin is only sheltering students, instead of assisting them to overcome adversity, an action that would truly fortify their character. What example does this set for students, many of whom will soon be in the workforce? If a supervisor or co-worker offends them, who will be there then to host their day of solidarity?
FULL STORY