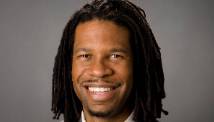 Editor's note: LZ Granderson, who writes a weekly column for CNN.com, was named journalist of the year by the National Lesbian and Gay Journalists Association and is a 2011 Online Journalism Award finalist for commentary. He is a senior writer and columnist for ESPN the Magazine and ESPN.com. Follow him on Twitter: @locs_n_laughs.
By LZ Granderson, CNN Contributor
(CNN) - In 2009, Brad Paisley released the song "Welcome to the Future" from his album "American Saturday Night."
In it, he sings about all the cultural changes he's witnessed in his life, including the evolving demographics of the country. He includes glowing references to the Rev. Martin Luther King Jr. and Rosa Parks. The election of Barack Obama inspired him to write it.
It's important to keep all of that in mind because for some, Paisley's latest song, "Accidental Racist," is making him look like an intentional one. I am reminded of an adage (but with a twist): No good ditty goes unpunished.
"Accidental" attempts to address a subject matter so few artists in country music are willing to do, which makes Paisley a brave man in so many ways.
Country music fans are notorious for excommunicating those whom they perceive as undesirable (see Wright, Chely). Despite Paisley's immense popularity, if he makes one misstep, everything could be snatched away. And attempting to bring a blue state conversation to red state radio could be one of those missteps.
"I'm not proud that people's ancestors were beaten and held in bondage," Paisley told USA Today. "But I am sure as heck proud of the farm I live on and the Confederate soldier buried there."
Infusing such a dichotomy into a song can be powerful. Unfortunately, "Accidental" sucks as a song. The chorus reeks like a '90s boy band ballad.
But its greatest sin is that in Paisley's effort to push for racial harmony, it miscasts the country's racial tension - with emphasis on the Confederate flag and Abraham Lincoln - as a distant thing of the past. A relic.
FULL STORY