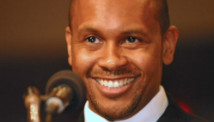 Editor's note: Kevin Powell is an activist, public speaker, writer and president of BK Nation, a new national and multicultural organization focused on civic engagement and community development. He is the author of "Barack Obama, Ronald Reagan, and the Ghost of Dr. King: Blogs and Essays." Follow him on Twitter: @kevin_powell.
By Kevin Powell, Special to CNN
(CNN) - I love baseball, deeply.
I played stickball and punchball growing up on the potholed streets of Jersey City, and dreamed of becoming a second baseman for the New York Yankees.
I hungrily digested book after book on historic and mythical figures such as Joe DiMaggio and Ty Cobb, and played Little League, Babe Ruth League and high school baseball.
Little did I know that Jackie Robinson, the first black player in Major League Baseball in the modern era, had created the possibility of dreams for black boys like me. As a child I only vaguely knew that he broke baseball's color line.
In the new film "42," this weekend's top-grossing movie, more Americans will learn  about how Robinson heroically integrated Major League Baseball.
But on Jackie Robinson Day,  there are fewer African-American players in the sport, and many black boys no longer aspire to play baseball.