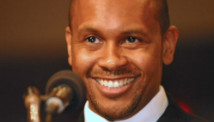 Editor's note: Kevin Powell is an activist, public speaker, writer and president of BK Nation, a new national and multicultural organization focused on civic engagement and community development. He is the author of "Barack Obama, Ronald Reagan, and the Ghost of Dr. King: Blogs and Essays." Follow him on Twitter: @kevin_powell.
By Kevin Powell, Special to CNN
(CNN) - I love baseball, deeply.
I played stickball and punchball growing up on the potholed streets of Jersey City, and dreamed of becoming a second baseman for the New York Yankees.
I hungrily digested book after book on historic and mythical figures such as Joe DiMaggio and Ty Cobb, and played Little League, Babe Ruth League and high school baseball.
Little did I know that Jackie Robinson, the first black player in Major League Baseball in the modern era, had created the possibility of dreams for black boys like me. As a child I only vaguely knew that he broke baseball's color line.
In the new film "42," this weekend's top-grossing movie, more Americans will learn  about how Robinson heroically integrated Major League Baseball.
But on Jackie Robinson Day,  there are fewer African-American players in the sport, and many black boys no longer aspire to play baseball.
There are a number of reasons for this decline.
One, it is simply far cheaper to play basketball than to purchase equipment for baseball, especially if you are poor, as I was. There is no longer the kind investment in the sport as we see with youth basketball leagues and camps.
Second, there is more interest in basketball and football.
As these fast-moving sports grew increasingly popular and showcased more black players, their rise paralleled the explosion of technology in our culture. Baseball became like dial-up Internet in an era of Twitter and Facebook.
It all contributes to why baseball is no longer a top sports option to young black boys, as it was for Robinson or a boy like me growing up in the '70s and '80s.
The tragedy is that baseball has historically promoted itself as America's national pastime, as a window into our democracy.
But how can that be, if there has been a steady blackout of black players?
Without blacks in baseball, we would not have had some of our country's greatest moments.
My beloved Yankees could not have won back-to-back world championships in the late 1970s without the heroics of black players such as Reggie Jackson.
Facing racism, Hank Aaron would not have broken Babe Ruth's long-standing home run record with grace and class.
A black player named Curt Flood would not have pioneered what would become known as free agency, the right of a player to determine where she or he could play.
We would not have had Frank Robinson, the first black baseball manager in Major League Baseball.
And there would have been the loss of super-talented middle America teams such as the Cincinnati Reds and Pittsburgh Pirates, which routinely fielded majority-black teams.
"42" should be watched by anyone who cares about history, justice and equality.
But ignoring the decline of black players as we honor Robinson is like remembering the Rev. Martin Luther King Jr. without working toward his urgent appeals to address poverty.
If we truly appreciate what Robinson and countless other Negro League and Major League stars did to fight for freedom and civil rights, then we must redouble our efforts to reach a new generation of black boys.
That is America at its best. That is baseball at its best.
The opinions expressed in this commentary are solely those of Kevin Powell.