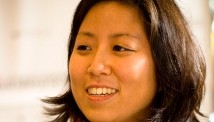 Editor's Note:  World-renowned chef, author and Emmy winning television personality Anthony Bourdain visits Los Angeles' Koreatown in "Anthony Bourdain: Parts Unknown" with self-described "bad Korean" Roy Choi and David Choe. Grace Lee is a Los Angeles-based independent filmmaker of fiction and documentary films that have explored identity. Her new film is "American Revolutionary" about Detroit activist Grace Lee Boggs.
(CNN) - Over the years, I've envied the achievements of the "good Koreans": their Ivy League credentials, their fluency in the Korean language and their dedication to their golf game and families - no matter what.
Even into my 30s, I regularly pondered whether it was too late to go to medical or law school so I could provide for my parents in their twilight years, or at least give them something to brag about to other Korean parents.
I went to graduate film school instead and made films on topics such as zombies, street food and electoral politics. My latest documentary, "American Revolutionary," is about a 98-year-old Chinese-American woman in Detroit who devoted her life to the civil rights and black power movement.
My career may sound exciting to the average reader. But these pursuits do not come with job stability or a 401(k). Bad Korean.
At the same time, I know many "good Koreans" who confide to me that they wish they could have chosen a different path. They tell me about their dreams of making movies. I tell them I wish I had their benefits and health insurance.
They are incredulous when I tell them my parents never pressured me to make a ton of money, that they instead encouraged my sister and me to be independent and seek happiness on our own terms. I tell them that I wished they had meddled a little more – maybe then I could have gone to an Ivy League school!
Perhaps one of the hallmarks of being Korean-American is that we always think we could be better. No matter how good we are, we are not good enough. FULL POST