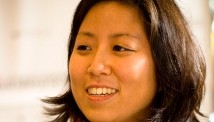 Editor's Note:  World-renowned chef, author and Emmy winning television personality Anthony Bourdain visits Los Angeles' Koreatown in "Anthony Bourdain: Parts Unknown" with self-described "bad Korean" Roy Choi and David Choe. Grace Lee is a Los Angeles-based independent filmmaker of fiction and documentary films that have explored identity. Her new film is "American Revolutionary" about Detroit activist Grace Lee Boggs.
(CNN) - Over the years, I've envied the achievements of the "good Koreans": their Ivy League credentials, their fluency in the Korean language and their dedication to their golf game and families - no matter what.
Even into my 30s, I regularly pondered whether it was too late to go to medical or law school so I could provide for my parents in their twilight years, or at least give them something to brag about to other Korean parents.
I went to graduate film school instead and made films on topics such as zombies, street food and electoral politics. My latest documentary, "American Revolutionary," is about a 98-year-old Chinese-American woman in Detroit who devoted her life to the civil rights and black power movement.
My career may sound exciting to the average reader. But these pursuits do not come with job stability or a 401(k). Bad Korean.
At the same time, I know many "good Koreans" who confide to me that they wish they could have chosen a different path. They tell me about their dreams of making movies. I tell them I wish I had their benefits and health insurance.
They are incredulous when I tell them my parents never pressured me to make a ton of money, that they instead encouraged my sister and me to be independent and seek happiness on our own terms. I tell them that I wished they had meddled a little more – maybe then I could have gone to an Ivy League school!
Perhaps one of the hallmarks of being Korean-American is that we always think we could be better. No matter how good we are, we are not good enough.
Most of the second-generation Korean-Americans I know – myself included - think of themselves as "bad Koreans" – or not . I took an informal poll of some friends before writing this piece.
Though this random sampling includes successful artists, directors of nonprofit organizations and college professors, none of us think we are "good Koreans".
The reasons are varied. We don't speak Korean. We're adopted. We're only half Korean. We're gay or lesbian. Our parents have no idea what we do because we pursued our passions - art, the social sciences, community organizing - instead of becoming doctors, lawyers or investment bankers.
We don't go to church. We married or cohabit with non-Koreans. Even worse, some of us aren't even planning on having kids, effectively halting the proliferation of more "good Koreans".
Reading over this list, it appears that many of us could benefit from therapy, one more thing that "good Koreans" don't need.
I explored all these ideas in "The Grace Lee Project," a personal documentary that aimed to unpack the model minority stereotype of Asian-Americans. I set out to prove that all Grace Lee's (many of whom you might recognize as "good Koreans") were not interchangeable, but learned that it is our individual complexities that define us.
Reducing ourselves to being good or bad fails to recognize that we have multiple identities. It's a bit like talking about the Axis of Evil, and we all know which Korea is the "good" Korea, right?
After making that film I needed a break from thinking about my Korean identity. I pursued other topics, but now that I have a child I have been wrestling with this question all over again.
His father is not Korean, but my son knows that he is. Korea is the place where his grandparents came from, where PSY dances to "Gangnam Style." He is obsessed with one day flying on a Korean Airlines A380 jet. His identity and his feelings about who he is will evolve as he becomes an adult, just as it did for me.
I'm Korean-American. But I'm also a woman. A mom. A Midwesterner. A filmmaker.
On any given day, I'm good at one or two of these identities and bad at the others.
I hope the world that my son grows up in can expand upon what being Korean means. That Koreans can reflect the diversity of our community: from fourth generation Americans who don't speak the language to undocumented Dreamers. From Miss Koreatowns to transgendered artists. From adoptees to people mixed with other ethnicities.
That Koreans can be good, bad and everything in between.
The opinions expressed in this commentary are solely those of Grace Lee.