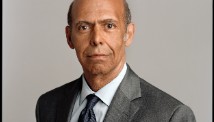 Editor's Note: Michael Lomax, Ph.D, is president and CEO of UNCF, the United Negro College Fund, the largest private provider of scholarships and other educational support to minority and low-income students. Previously, Lomax was president of Dillard University in New Orleans and a literature professor at Morehouse and Spelman colleges.
(CNN) - More than 35,000 students will graduate from college this year because of something that happened 159 years ago Monday.
It was on this day in 1854 that Ashmun Institute, the first college established solely for African-American students, was officially chartered.
Twelve years later, Ashmun was renamed as Pennsylvania's Lincoln University and became the nation's first degree-granting institution for African-Americans, or what we now know as a historically black college and university.
Where Lincoln led, others followed, and there are now 105 historically black colleges and universities, enrolling more than 370,000 students and awarding 20% of all undergraduate degrees earned by African-Americans.
"A mind is a terrible thing to waste," the almost universally recognized motto of  UNCF, the  United Negro College Fund, has come to represent the aspirations of all historically black colleges and universities to ensure that all Americans can earn the college degrees they need and the 21st century economy demands.
UNCF makes those aspirations real for nearly 60,000 students each year by providing financial support for 38 private historically black colleges and universities and awarding 13,000 scholarships to students at 900 colleges and universities.
Like Lincoln University, these historically black colleges and universities began when African-Americans had few other higher education options. Much has changed since then. Today, a college education is not a "good-to-have" but a "must-have," the basic requirement for almost every fast-growing and good-paying job and career path.
Today, African-Americans can attend almost all colleges and universities, but more than four times as many students choose historically black colleges and universities than 40 years ago. What's the secret of their enduring success?
Historically black colleges and universities have endured and thrived because, just as in their early years, they are giving students the education they need and that we, as a community and as a nation, need them to have.
In fact, research by UNCF's Frederick D. Patterson Research Institute shows that historically black colleges and universities excel at graduating students the economy needs most: students from low-income families.
"We know that students who enroll at HBCUs tend to have fewer financial resources and less rigorous academic preparation than students who enroll at non-HBCUs," reported a study, "Understanding HBCU Retention and Completion."
But "(w)hen these student characteristics were controlled for, HBCUs' retention rates were actually superior to those of non-HBCUs. HBCUs also outperformed non-HBCUs in graduating their students when these student characteristics were controlled for, and this superior performance persisted even when we narrowed the analyses to focus specifically on black students, black males and black females."
These are impressive findings. But they tell only part of the story. Another study by UNCF's Patterson Research Institute, "Students Speak!: Understanding the Value of HBCUs from Student Perspectives," highlighted the human element in understanding why, with so many higher education choices, so many students still choose historically black colleges and universities. Many students, it said:
Focused on the need to feel connected—a sense of belonging—as an important driver influencing the decision to attend their institution of choice. Students spoke of their need to feel welcomed at their institutions and identified institutional characteristics that facilitated their abilities to adapt. … The students (also) described how meaningful relationships with faculty and the ethnic and academic diversity on their campuses enhanced their academic engagement and sense of self.
One student cited his desire to "embrace my own history, heritage and everything that has gone into making us who we are."
"I liked the involvement that the students had," said another student. "It was personal, it was easy to have access to your teachers, it was a lot of one-on-one care, and I liked that."
A third student valued the structure that many historically black colleges and universities provide: "The professors take the time out to hold their students accountable to another level," he told researchers. "(I)f a student comes in five minutes late, the teacher will address the student, hold the student accountable, and then move forward with class … and it really helps us in the end because it teaches us responsibility with time management and other principles that are really going to be effective for the workforce."
When Lincoln University opened its doors, few other colleges would admit black students. Lincoln and all the historically black colleges and universities that followed changed that.
Today, African-Americans with college degrees are our nation's teachers, doctors, lawyers, scientists, corporate executives, mayors, governors and members of Congress.
In years to come, they will continue in these roles and also assume vital science, technology, engineering and math jobs to move our nation forward.
For 159 years, historically black colleges and universities have shaped our history. Today, they are shaping our future.
The opinions expressed in this commentary are solely those of Michael Lomax.