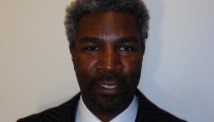 Editor's note: Cornell Belcher, a CNN contributor, was the Democratic National Committee's pollster under Chairman Howard Dean in 2005 and worked on the 2008 and 2012 Obama campaigns. Follow him on Twitter: @cornellbelcher.
By Cornell Belcher, CNN Contributor
(CNN) - "But if we know enough to be hung, we know enough to vote. If the Negro knows enough to pay taxes to support the government, he knows enough to vote; taxation and representation should go together. If he knows enough to shoulder a musket and fight for the flag, fight for the government, he knows enough to vote ... "
- Frederick Douglass ("What the Black Man Wants," 1865)
Yet another milestone of great American historical importance has come to pass with embarrassingly little tribute. And much like the election of President Barack Obama, many of us also thought we would never live to see this racial ceiling broken.
But unlike the election and re-election of the first black president, the media has paid remarkably little notice to news that might well have more impact on the political trajectory of this country over the next decade than the election of a single president.
According to a new Census Bureau report, "In 2012, blacks voted at a higher rate (66.2%) than non-Hispanic whites (64.1%) for the first time since the Census Bureau started publishing voting rates by the eligible citizenship population in 1996."
Now, given the innumerable battles to secure this most important right of democracy - from the blood-soaked battlefields of the Civil War to the halls of Congress and courts, to the strife-torn streets of the Civil Rights era - few things in our collective political history has borne so heavy a toll on our democracy as the enfranchisement of the African-American.
That the group for which so many hurdles have been thrown upon to block the vote has for the first time become the group most likely to vote is something like a big deal.
FULL STORY